Interview with Kudan graduate. Christian G.(Colombia)2014 Graduate②
Category:After graduation, Contribution, Getting a job
---
Christian G.(Colombia)2014 Graduate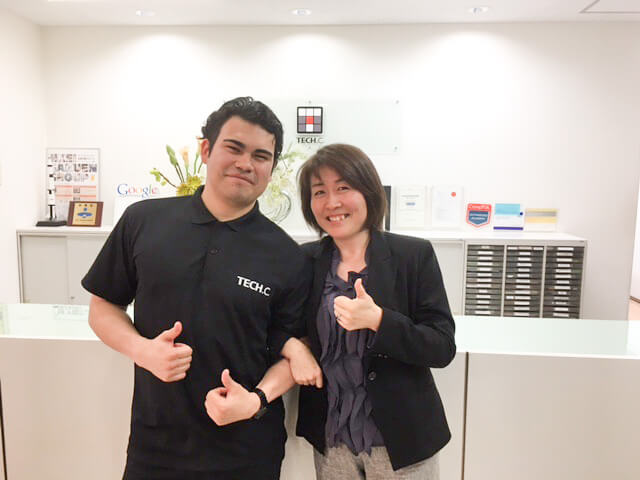 (日本語)就職までの道のりは?

九段日本語学院1年3ヶ月→て東京デザインテクノロジーセンター専門学校(スーパーITエンジニア)4年目→大手IT企業内定

(Español)Como empezó la búsqueda de trabajo?

Kudan Institute of Japanese & Culture 1 año y 3 meses → Tokyo design technology center 4to año → ofertas de trabajo

(English)What was your road to find a job offer?

Kudan Institute of Japanese & Culture 1 year 3 months → Tokyo design technology center 4th year → Job offer

---
(日本語)就職活動を始めた時期、どのように活動したかを教えてもらえますか?

大手求人サイトへの登録後、インターンシップをしている会社を探して応募しました。
大手のIT会社「GMOや楽天など」でインターンシップをし、働きたいと思う会社を絞り専攻ステップにすすみました。

(Español)Como empezó la búsqueda de trabajo?

Me registre en varios sitios web que ayudan a las personas que próximamente saldrán graduadas, luego busque empresas que estuvieran ofreciendo posiciones para hacer pasantías.
Después de hacer pasantías en varias compañías, elegí Rakuten y GMO para continuar con el proceso de selección.

(English)How do you started the job hunting?

I registered in a few websites who helps the new graduates to find a job and also I search for companies offering internships.
After did some Internships inside a few companies, I choose Rakuten and GMO to continue with the selection progress.
---
(日本語)選考ステップはどんな内容ですか?

会社にもよりますが、プログラミングテスト、適性検査、面接が数回です。

(Español)Como es el proceso de selección?

Depende de la compañía pero por lo general hay examen de programación, examen de aptitud y varias entrevistas.

(English)How the selection progress is?

Depends on the company but usually there is a programing test, aptitude test and more than one interview.
---
(日本語)大変だったことは何ですか?

エントリーシートです。自己PRや志望動機、その会社で何をやりたいかを日本語で書くのにかなり苦労しました。

(Español)Que fue lo mas complicado?

Redactar las hojas de entrada en japonés.

(English)What was the most complicated?

Fill the entry sheet in Japanese.
---
(日本語)どうして自分は大手の会社の内定が決まったと思いますか?

専門学校在学中やインターンシップでITに関するスキルや様々な言語をマスターしました。そして数多くのアプリやプロジェクトで作品を作り、ポートフォリオとして会社に見せられるように準備しました。
また、1年前から自分でインターンシップを探し、そこで働き、自分や自分の仕事を見てもらうことで安心してもらえたからだと思います。
技術だけで日本語でコミュニケーションがとれない、または人柄はいいけど技術がないだと日本人でも外国人でも採用されないので、自分はバランスが取れていたと思います。

(Español)Porque cree que recibió varias ofertas de trabajo?

En clase y en las pasantías, aprendí y practique varias habilidades e idiomas de programación, gracias a ello termine varios proyectos y aplicaciones los cuales me sirvieron como carta de presentación.
En varias de las compañías que me ofrecieron trabajo hice pasantías, por tanto conocían mis conocimientos y habilidades de IT.
Pienso que también es importante tener un balance entre las habilidades de comunicación y de IT.

(English)Why do you think you received more than one job offer?

In class and internships I learned and practice a lot of IT skills and programing languages who help me to finished a lot of projects and applications, which I presented as my portfolio.
In most of the companies where I did internships offer me a job because they recognize my IT skills and my knowledge.
I think also is important have a balance between communication skills and IT skills.
---
(日本語)日本で就職を考えている人にアドバイスはありますか?

まずは日本語をしっかりと学んでください。
積極的に自分で色々動いて経験を積んでください。
アルバイトで日本人と一緒に働いてみたり、履歴書のためにJLPTなど
資格試験を受けるのもいいと思います。

(Español)Hay algo que quiera decirle a las personas que piensen buscar trabajo en Japón?

Aprender Japonés.
Moverse activamente para ir acumulando nuevas experiencia.
Tener experiencia con japoneses y tener JLPT 1 o 2 es muy bueno para la hoja de vida.

(English)There is any advice for the people thinking about getting a job in Japan?

Learn Japanese.
Be active, always try to have new experiences.
If you have experiences with japanese people, some technical certificates and JPLT 1 or 2 is a good start for the CV.
---
2017年5月23日 火曜日 10:28 AM Category: After graduation, Contribution, Getting a job.