Planning to come to Japan
About the visa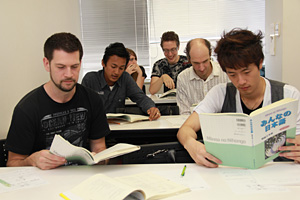 for person who wants to study for six months or more

・When you receive education in Japanese education institution, the visa is Student visa in general. Applicants who wish to study for long-term need to acquire this visa.

for a person who wants to study for 1-3 months

・Several nationalities can stay in Japan without a visa. However an extension of the visa is not permitted. If you would like to study beyond the period, you need to acquire Student visa.
About the course
We provide three courses according to your study purpose and period.
・The purpose of this course is focused on improving 4 language skills, reading, writing, speaking and listening. We offer the lessons which can make you acquire the ability of making natural conversations in Japanese so that you will be able to adjust yourself to the Japanese society without any trouble.
・It This course is for complete beginner. We will offer hiragana / katakana writing , reading lessons and basic grammar.. *After the course is completed , the student can transfer to the intensive course.
・Conversation course focuses on basic grammar, vocabulary, and Japanese culture & customs in order to improve your fluency. This course will enable you to speak with confidence.