Var med i skolaktiviteter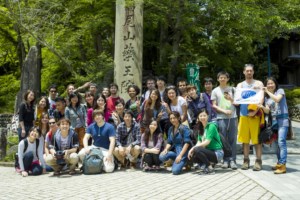 Vi har regelbundet skolaktiviteter (till exempel; åka till Tokyo Disneyland, Hakone, skidresa, sporter, grillfester osv) Det finns många aktiviteter för dig att välja bland!
School activities
We did Takao mountain hike in sunny weather like summer. Fresh green was very beautiful. Thank you for your participation.
Kudan Speech Contest2019 Best3
Kudan Japanese Institute Speech Contest2019 Best3
We went to hiking from Sagami lake to Mt Takao. it was sunny and warm day! Thank you for everybody walking to long trail.
2018Kudan Speech contest Best 3 Speeches
This course offers a variety of Japanese cuisines such as learning how to cook Japanese food made from soup stock, delicate ornamental sushi, and unique lunch boxes that you will be able to make for your family and friends even in your home country.
Maintenance Facility tours(ANA機体工場見学)
Last Friday, We went to ANA maintenance Facility tours in Haneda air port. We could see very close distance the boeing 777 and 787 and Pokemon-jet.
書道講座(Let's experience Japanese Calligraphy!)
Last Thursday, We held a calligraphy course. Everybody drew favorite Kanji character.
Last night We made Japanese sweets at Kudan activity. It is flower shapes sweets.Like a Nadeshiko(Dianthus) of fall flower.
Last Summer We went to Nagatoro in Saitama PF. Unfortunately, Last day Passed through typhoon in Saitama. the river is freshet, so We could not boat trip. Althought we could not boat trip, We were exploring the Kawagoe. and then We took the fish on the river, do BBQ, and then Grape picking in Nagatoro.
高尾山新緑ハイキング(Hiking to Mt Takao)
先週土曜日に高尾山へハイキングに行きました。 新緑がとても綺麗でした。 Last Saturday, We went hiking to Mt Takao. We felt so beautiful spring greens.
---
Utbyte med Japaner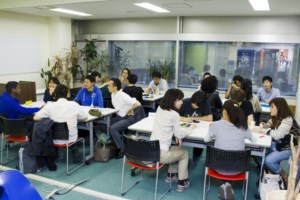 På skolan finns många elever av olika nationaliteter, men de enda japanerna är lärarna. Det är inte så lätt att skaffa vänner i din åldersgrupp, och vi tycker det är synd om du åker hem utan att ha skaffat japanska vänner. Vår skola erbjuder ofta tillfällen att få träffa högskole- och universitets studenter, samt affärsmänniskor. Till exempel att åka på högskola eller universitet, grillfester, lekar, småprat, bowling, té ceremonier, kalligrafi och så vidare.
---
Boende
Home stay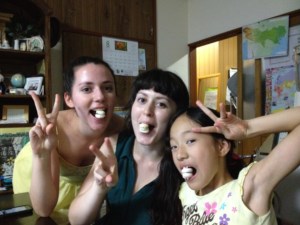 Home stay är en av de mest ideella sätten att lära sig om Japan, japansk livsstil och japansk kultur, allt direkt från en värdfamilj. Och eftersom eleverna får mycket tid till att prata med värdfamiljen är det garanterat att du blir bättre på japanska snabbare. Alla våra värdfamiljer är noggrant utvalda av vår personal genom hemintervjuer. Vi har för tillfället runt 300 aktiva värdfamiljer i vårt program. Alla våra familjer har blivit valda baserat på att de uttryckt att de vill dela sin kultur med utländska studenter.
Privat studentrum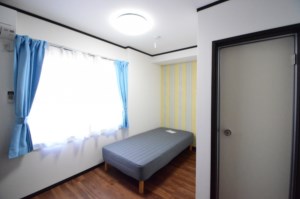 Det finns många privata studentrum (Guest Houses) för utlänningar tillgängliga.