Manga(Comic) Course
Manga Course news
Collaboration course with Kudan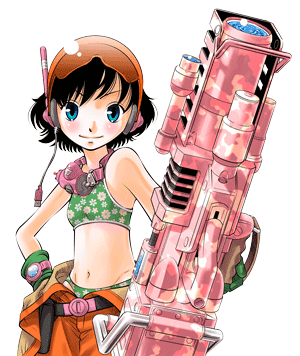 The dream course of Japanese language and Manga is now here through the collaboration of Kudan and Mangajuku!(Professional Manga School) You can learn both Japanese and Manga during your short stay of 3 months in Japan.
This course is completely original and is a special course made for those interested in Japanese manga, but is only for students of Kudan Institute of Japanese Language and Culture.
In this course, a professional manga artist together with a bilingual coordinator will assist you according to your level, and whether you are someone who likes reading manga but is a complete beginner in drawing, or for those who are experts at drawing but would like to broaden their expertise, you can be assured that students of any level can take the course.
We have already produced more than 100 student graduates from 37 different countries. While studying Japanese language, you learn how to draw manga characters, and you would be able to create an original character of your own. At the end of this course, along with the Certificate of Completion, you will also receive your works and a manga sketching textbook.
Why not try to directly experience the manga culture that has taken over the world?
Kudan Manga course class lesson movie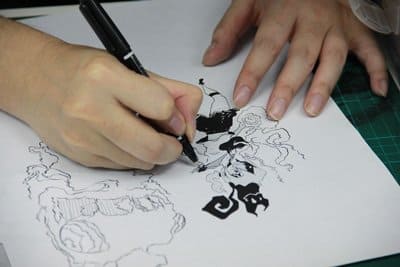 Japanese lesson + Manga lesson.
Manga Course Curriculum (1 month Course, 5 lesson /2-month Course, 10 lessons / 3-monthCourses, 16 lessons)
Over 15 years old (High School students or older).
Accommodation: Homestay or private dormitory.
Course
Date
Term
Japanese Level
Manga
(Comic)
course


April  04~ 2022
July  04~ 2022
October 03~ 2022

3 months

For Beginner, Intermediate & Advanced
2 months
1 month
Course Fees
Course
Term
Fees
Manga
(Comic)
course
3 months
392,,000YEN
+Bankcharge 4000YEN
2 months
268,000YEN
1 month
154,000YEN
Fee Includes

Registration Fee,Text Book,

Japanese+Manga course tuition
Accommodation Fees
Course
Term
Homestay
Fee Includes
Manga
(Comic)
course
3 month-Course
12weeks(84 nights)
262,000YEN
Placement Fee,
breakfast & dinner for weekdays,
3meals for weekends
2 month-Course
8weeks(56 nights)
178,000YEN
1 month-Course
4weeks(28 nights)
94,000YEN
Guest House 65,000 YEN(Single room)~ / Month
| | | |
| --- | --- | --- |
| Airport Pick Up | Arrival on Saturday | 15,000YEN |
Q&A
Not understanding Japanese at all, am I still eligible to the course?

Yes, you will have no problem at all. The Japanese language course is designed for complete beginners exclusively and the Manga course is taught both in Japanese and English.

Not having experienced drawing Manga at all in my life, am I still eligible to the course?

Yes, you will have no problem at all. You can learn Manga from scratch.

Can I participate in the course from the middle of the program?

No, you cannot. The program is designed to progress gradually to accomplish the graduation project at the end by starting from scratch therefore, no participation is allowed part of the way through the program.

What is the minimum age to enter the course?

The minimum age is 15 years old, the same for the Japanese school.
Nihon Mangajuku(日本マンガ塾)
Mangajuku is a private Manga school with 17 years of history and was established for the purpose of bringing professional Manga writers up in the Japanese Manga business. The comprehensive Manga curriculum of Mangajuku, from story to background and from analog to digital, is taught by professional instructors, who themselves are leading professional Manga writers. Mangajuku is located in Jimbocho, the central Tokyo, Japan, and is conveniently just five minutes walking distance from Kudan Institute of Japanese Language and Culture. There are many prestigious publishers and bookshops dealing with Manga near Mangajuku. Mangajuku is proud of its excellent performance record of students' professional debut numbers and keeping the top position of about 100 Manga schools in Japan. There are many professional Manga writers who have graduated from Mangajuku and Mangajuku is now contemplating on developing its business throughout the world.
Manga course Curriculum
In the course, you will learn how to draw a face and whole body in Manga and above all, you will learn how to draw characters in different genres of Japanese Manga such as Ninja, Teen Drama, Adventure, etc. Using the same dip pen used by professional writers, the curriculum progresses through practical exercises and detailed instructions easy to understand for beginners.
The collaboration course consists of 16 lessons in 3 months, including digital coloring exercises using computer programs, and aims to accomplish an illustration of each participant's original character by the end of the course. As an out of classroom exercise, a sightseeing tour of Akihabara, the Mecca of Manga and animation, is scheduled. The course consists of such an attractive curriculum!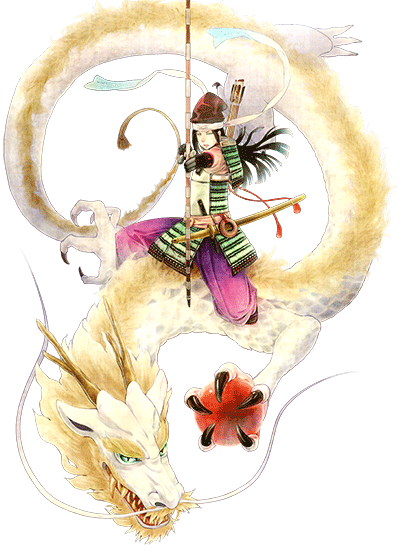 1.Orientation to the course and outlook of Japanese Manga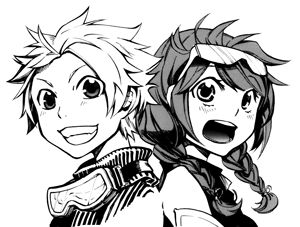 Self-introduction of the participants and orientation to the course; Exercises; Drawing with a dip pen, filling in procedure, whitening out with liquid and screentones.
2. Character faces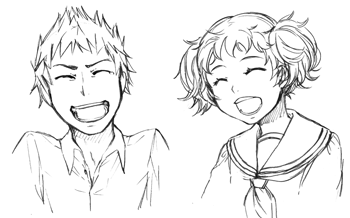 How to draw the face. Deformation theory and expressive techniques to show human feeling such as joy, anger, sorrow and pleasure.
3. Drawing the character as a whole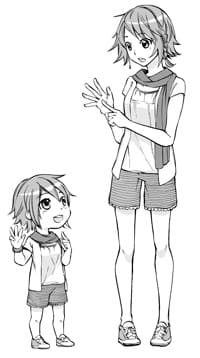 Positioning technique of the whole character. Head and body and their proportions. Deformation and attractive poses.
4. Character design 1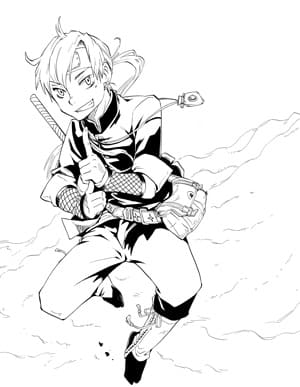 Methodology of characterization through fashion, body shape and hair style.
5. Character design 2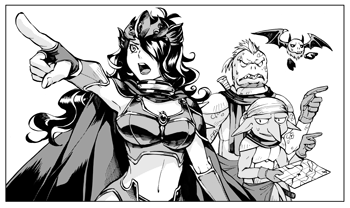 Drawing the character in different themes of Japanese Manga.
↑ End of 1month Course
↓ Continue to 2months and 3months Course
6. Character motion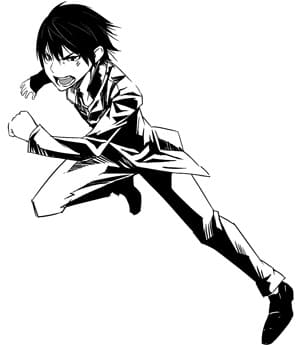 Practice in drawing running characters. Practice in creating the side composition, or composing from a previous composition.
7. Professional Character Design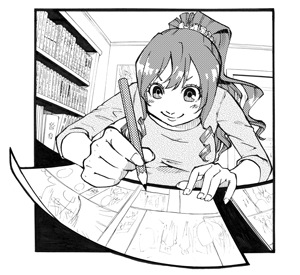 Actual hands-on experience with a professional manga artist. Lecture about the typical work of a professional manga artist.
8. How to draw the background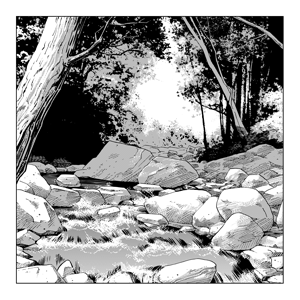 The basic methodology of background art (clouds and skies、trees and leaves, seas and waves).Shaving technique using screentone
9. Scene allotment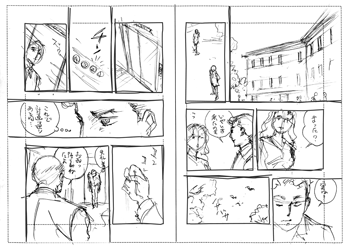 Basic description of the panel layout. Trial production of 1 page scene allotment based on an exsit story.
10. Digital production(monochrome)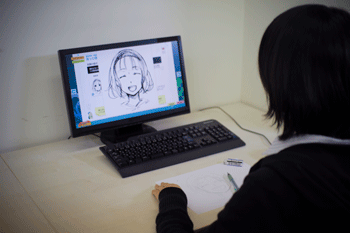 Drawing Manga using "CLIP STUDIO PAINT", a piece of computer software.
↑ End of 2months Course
↓ Continue to 3months Course
11. Graduation project 1- monochrome (Draft)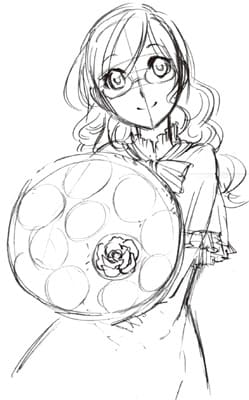 Making a cover page of the manga in your debut as a professional manga artist. Drafting with a pencil.
12. Graduation project 2(Pen lining)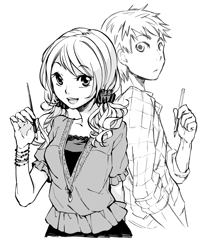 Making a cover page of the manga in your debut as a professional manga artist. Pen lining, putting in title (in case of handwritten)
13. Graduation project 3(Digital color)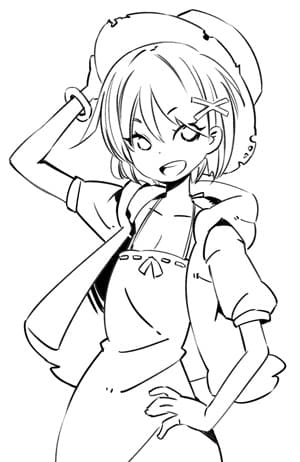 Coloring of the project work by a computer. Coloring of the cover page
14. Graduation project 4(Completion)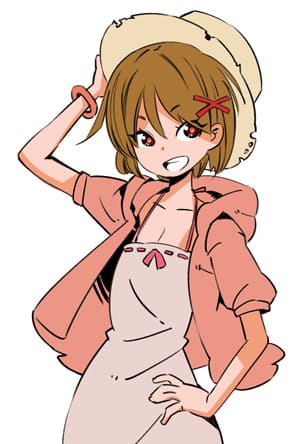 Completion of the digitally colored graduation project.
15. Field trip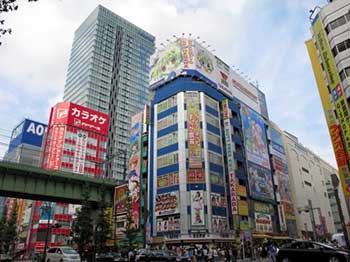 Observation trip regarding manga history and viewing of videos for drawing manga.
16. Final comment and graduation ceremony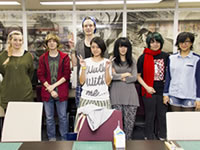 Review and comment on each graduation project. Presentation of the completion certificate for the course.
Works of Graduates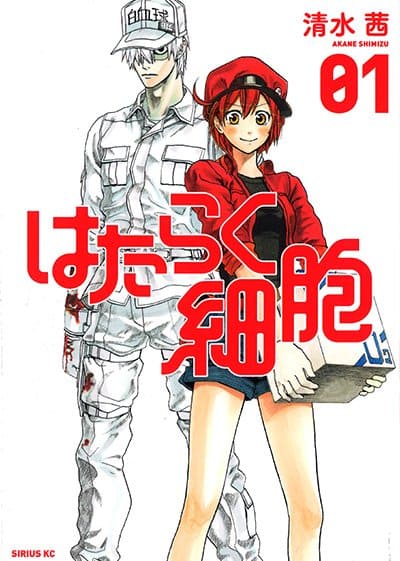 ©Akane Shimizu『Working cell』
Koudansya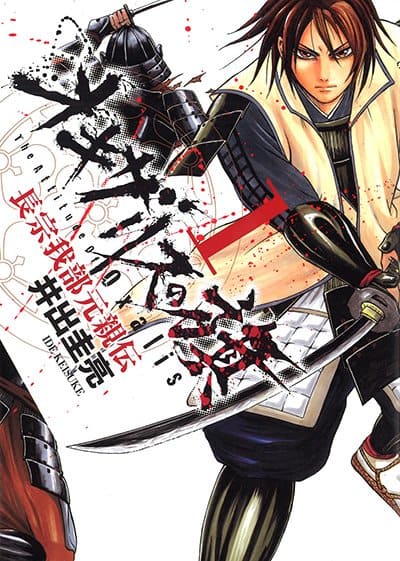 ©Keisuke Ide『The Attitude of Oxalis』
Syueisya