This visa is issued to students studying at Japanese language schools, universities, and vocational schools.
Those who plan to study Japanese for 6 months to 2 years need to obtain a student visa.
*We are currently not accepting beginners (less than N5 level) who would like to apply for a student visa.
Requirements
Ages 18 and over
Graduated from a high school or higher educational institution

*Please contact us if you do not meet the conditions
Conditions
Student visa holders are required to take classes every day
Student visa holders can work part-time up to 28 hours a week
The list of necessary documents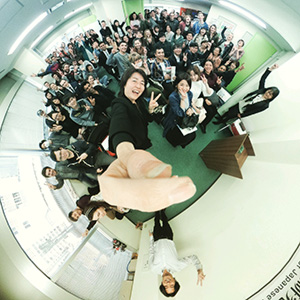 Student visa application form ( School format )
Personal record ( School format )
Letter of paying expenses ( School format )
Final school diploma
Passport copy ( Photo page and Japan entry stamp pages )
Your face photos <6 photos> Size : 4cm X 3cm ( Passport photo size )
Your Guarantor's bank balance certificate ( Need more than 1,600,000yen )
Your Guarantor's employment certificate
Your Guarantor's tax certificate ( Annual income must be written on it )
Relationship certificate between you and your guarantor ( Birth certificate, Resident certificate and so on )
※ Depending on the circumstances, more documents may be required
※ It is not possible to download 1.2.3. on the school Wwb site. Therefore, please contact us using the inquiry form at first found below.
Student visa procedure
You can enroll four times a year in January, April, July, and October.
Please note that the visa application process will take some time.
Required documents and procedures are as follows.
Procedure
Starting dates & deadline
April
July
October
January
Send necessary documents and processing fee to our institute. We will stop recruiting when maximum class numbers are reached
Aug ~ Oct
Jan ~ Feb
Mar ~ Apr
July~Aug
We translate and check all the documents you sent to us
Oct ~ Nov
Feb ~ Mar
Apr ~ May
Aug ~Sep
We hand your documents into Immigration Office in Japan
End of Nov
Mid of Mar
End of May
Mid of Sep.
Immigration Office checks your documents
Dec ~ Feb
Mar ~ May
May ~ Aug
Sep ~ Nov
When your documents are confirmed by Immigration Office, a Certificate of Eligibility (Permission from Japanese Government to be granted a Student visa) is issued
End of Feb
End of May
End of Aug.
End of Nov.
We invoice the rest of the fees (Registration fee and Tuition for 1 year, Maintenance fee & Social Activity fee)
End of Feb
End of May
End of Aug
End of Nov
Applicants remit the invoiced fee to our bank account
Beg of Mar
Beg of Jun
Beg of Sep
Beg of Dec
After confirmation of payment, we send the Admission Certificate and the Certificate of Eligibility to you
Mid of Mar
Beg of Jun
Mid of Sep
Mid of Dec
Applicants hand in the documents to apply for the visa at Japanese embassy
Mid of Mar
Mid of Jun
Mid of Sep
Mid of Dec
depart to Japan
Beg of Apr
Beg of July
Beg of Oct
Beg of Jan
Employment ・ Proceed to higher education
Fees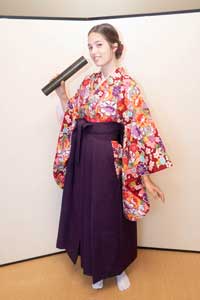 Intensive Course student (Student Visa)
Valeriane (from Belgium)
I came to Japan for two reasons: to live a lot of experiences and to come back in Belgium with a good level of Japanese.
I came to take intensive courses for 9 months. Classes were given from 1:30 p.m. to 5 p.m. Monday to Friday.
I always had between 2 and 3 different teachers on the week. Every Tuesday and Thursday I had a different class to learn kanji for 1h30.
This is a very good thing because I already had a certain level of Japanese without knowing any kanji.
At first it was difficult because you have to get used to having only Japanese and hardly any English except for the vocabulary given in the book.
The teachers are all very nice and attentive.
They are always ready to explain again and give lots of examples. Be careful not to forget to do your homework, which is very important to remember the theory that is moving forward very quickly.
The school also offers monthly activities such as a tea ceremony, doing a wind chime, or learning a martial art. It was a lot of fun! While I could visit on weekends and walk around in the mornings, my level of Japanese increased very quickly! Goal achieved!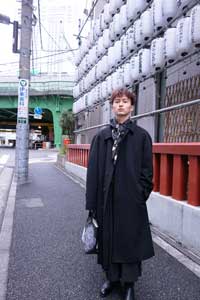 Intensive Course student (Student Visa)
Ho (from China)
It is my third time to study at Kudan Japanese School.
To improve the level of my Japanese skills, I chose to continue studying here even during the COVID pandemic.
I have been used to Kudan's comprehensive curricula ranging from intensive courses to conversation courses.
The thing that always surprises me is that Kudan prefers to assign three different teachers to teach each course in order to help students get the best experiences.
Not only can I learn the essential language skills prepared for JLPT tests but also I am capable of mastering the communication skills with Japanese people.
This time thanks to the huge support from Kudan's staff in my school applications, I got admitted and also received scholarships eventually. All in all, learning Japanese is a long journey in Japan and on the other hand indeed, choosing a good school is such important.
I am so happy that all my experiences here in Kudan proved me right in my career path.
Thanks to your support, Kudan Institute of Japanese Language & Culture is about to celebrate its 34th year in business.
This year, as in previous years, the Immigration Bureau has certified us as an "Excellent and Appropriate School (Yuryo tekiseiko)" with no illegal residents, no individuals with a revocation of status of residence, and no other violations. We are pleased to be certified as an "Excellent and Appropriate School (Yuryo tekiseiko)," and the certificate is available for viewing below.

We will continue to work hard to create an environment where everyone can learn Japanese with peace of mind.
We are all looking forward to seeing you at our school.
Certificate of "Excellent and Appropriate School (Yuryo tekiseiko)"