Online Private Lessons
The Kudan Institute now provides online private lessons via the videoconferencing app Zoom.
Improve your Japanese language skills quickly through customized lessons that meet your language learning goals and fit your schedule.
Four Features of Online Lessons
✔All of our instructors are highly qualified
✔Lessons are conducted in real time so you can get answers to your questions right away
✔Lesson content can be customized to meet your purpose of study and schedule
✔You can attend our online conversation exchanges with Japanese people for free if any exchanges are held during your time as an online lesson participant (conversation exchanges are only held during certain times of the year)
Overview 
✔Lessons are available on weekdays and Saturdays
*Lessons are scheduled on Japan Standard Time (JST)
✔One lesson is 50 minutes
✔You need to apply for at least 8 lessons in your initial application
Tuition
Admission fee
Tuition (8 lessons )
Private lesson
10,000 yen
32,000 yen per lesson
Semi-private lesson
(2 to 4 people)
10,000 yen (per person per lesson)

22,400 yen (per person per lesson)
For semi-private lessons, applicants must be the same level and have the same purpose of study
If the group is more than 5 people, please contact us.
How to apply
1.Contact us via the form below
2.Consultation and evaluation (We will check to see if private lessons are suitable for your needs.)
*Please note that depending on things like your requested lesson schedule, there may be some situations where we cannot match you up with a teacher.
3.Verification of your internet connection quality
4.Submission of application
Online conversation exchanges with Japanese people
Online conversation exchanges with Japanese people
You can participate in our online conversation exchanges with Japanese people if any exchanges are held during the period that you are an online lesson student.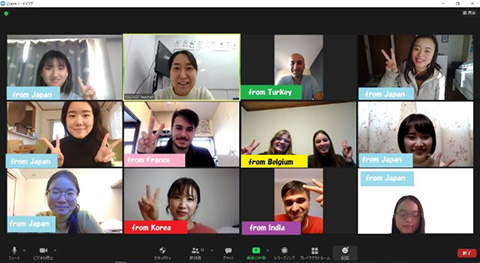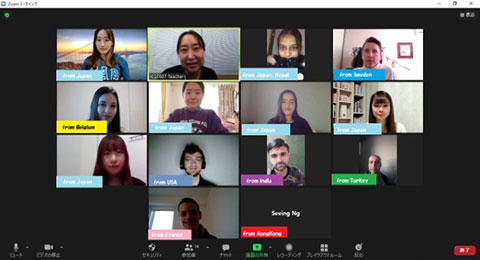 Examples of previous lessons' contents
| Industry | Participant's Home Country | Learning Goal |
| --- | --- | --- |
| Software Development | Korea | BusinessJapanese |
| Restaurant | India | Reception |
| IT & System Development | China | Basic Japanese |
| IT & System Development | India | Japanese-Language Proficiency Test (JLPT) |
| High School | USA | Conversation |
Sample learning specific skills
Listening

Radio・TV・Announcements
(vehicles, stations, stadiums, museums,
shopping malls, zoo, amusement parks…)
Claims・Japanglish・Loanwords・Discourse Interviews…

Speaking

Self-introductions・Greetings
Phone calls・Messages・Meetings
Information / Reception Desk Work (Receptionist, Waiter)・Presentations・Debates…

Reading

FAX・Fliers・Newspapers・Magazines
Newsletters・Websites
E-mail・Invoices…


Writing

Messages・Resumes・Vouchers
Mail・Registration(Members, tickets)・Presentations…

QA
Are there any age restrictions?

Yes, only individuals 15 years of age or older may take this course. For those under the age of 20, the consent of a guardian is required to sign up for this course.

How is the teacher chosen?

A person in charge will choose a teacher among the online specialist teachers hired by our school, and then propose the best teacher for you.

How do you decide when the lessons will be held?

When you sign the course contract, you will be asked to decide the lesson schedule (time and day of the week). Please see the Terms and Conditions for information on how to reschedule a lesson.

Are there any rules about how long I have to complete my lessons?

We ask that you complete your lessons within a two month period.

What are online conversation exchanges?

Online conversation exchanges are Zoom meetings organized by the Kudan Institute where you will have the opportunity to talk with Japanese university students, high school students, and/or working adults. Using small group sessions, we create a relaxed atmosphere where you can enjoy conversing with others.
Contact us