Student's and HostFamily voice
Student's voice(movie)
Student's voice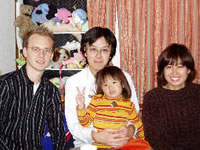 Karl (Sweden)
I ate a lot of good foods, folded origami, and went to watch football game with host father. The family was very kind to me. I was looking forward to every weekend.
---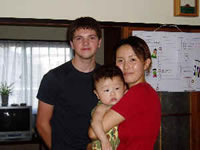 Ryan (U.S.A)
I enjoyed a lot when I stayed in Japan. The family was kind and always helped me. I hope I visit Japan again.
---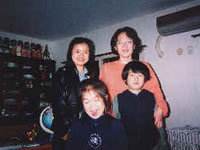 Frech (Thailand)
My host family was very kind. Host mother served delicious meals every day. Also they took me to various places to see and enjoy. I often played with their children. I was so happy when I stayed at this family's house. Thank you for the kind hospitality!
HostFamily voice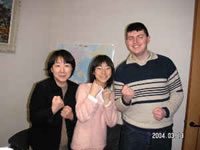 Saitama city S Family
The reason why we registered as a homestay family is that we thought we might be able to to do something for the students from overseas. This time we accepted a student from Italy. He was a very cheerful and bright young man. When he stayed with our family, he and my son became good friends. They often talked about comics, music and CDs, or went to eat Japanese noodle together. When he left Japan, he invited my son to go to Rome. We are looking forward to seeing him again in Italy.
---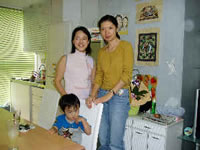 Tokyo N Family
When we have a student to stay with our family, we try to treat him or her as a member of our family like our brother or sister or child, rather than a special guest. I think this is important for host families. And our family is always willing to accept different cultures. With the respect and the willingness to accept different culture, the student and our family both enjoyed the cultural exchange. Our family were very glad to know the latest topics in a different country. Last summer when we went to Korea, the student who used to stay with our family guided us around Korea.
---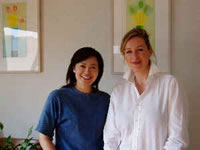 Tokyo I Family
The reason we became a host family is that we would like to do something for the students who wish to study in Japan. We have accepted students from Hong Kong, Taiwan, and France. Accepting foreign students to stay in our family provides us a chance to re-think about Japanese culture. The foreign students reminded us of the wonderful Japanese customs which we have almost forgotten in our daily life.
---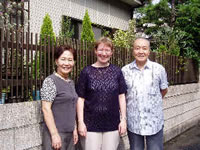 Ichikawa city K Family
After retirement, we got plenty of time to spend at home. So we thought of being a host family. So far, our family has accepted the students from Taiwan, Switzerland and Australia. A few days ago, we were invited to attend a wedding ceremony by a Taiwanese student who was the first student stayed with our family. So we went to Taiwan and we were enormously welcomed. Even after we returned to Japan, the student kept in touch with us through e-mails. And now we are very glad that we can still continue to communicate with each other.