Winter Holiday Course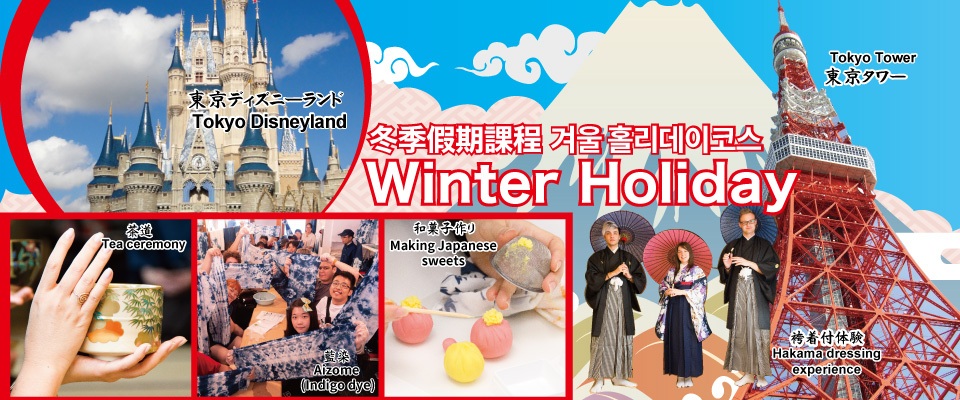 The purpose of this course is to provide students with many chances to practice daily conversation for their spoken & listening skills to be brushed up! In the lessons, you will learn a lot of situational conversation that you may come across during your stay in Japan.
This is the ideal course for student like you who would like to learn Japanese in a relatively short period of time.
2019 Winter Holiday Application finished
Winter Course
 
Mon.
Tue.
Wed.
Thurs.
Fri.
Sat.
Sun.
  1/6
  1/7
  1/8
1/9
1/10
 1/11
1/12
AM
Orientation for Course 1
 
Study 
Japanese
Study 
Japanese
Study 
Japanese
Study 
Japanese
PM
 
Tokyo Tower
Visiting Zojo Temple
1/13
1/14
1/15
1/16
1/17
1/18
1/19
AM

National
Holiday

Study 
Japanese
Study 
Japanese
Study 
Japanese
Study 
Japanese
PM
Orientation for Course 2

 Tea Ceremony
Aizome Experience (Indigo dye) in Asakusa
1/20
1/21
1/22
1/23
1/24
1/25
1/26
AM
Study 
Japanese
Study 
Japanese
Study 
Japanese
Study 
Japanese
Study 
Japanese
PM
Hakama dressing
Course1

Orientation for
Course 3
Hakama dressing
Course2

Tokyo Disneyland

1/27
1/28
1/29
1/30
1/31
2/1
AM
Study 
Japanese
Study 
Japanese
Study 
Japanese
Study 
Japanese
Study 
Japanese
Leaving Japan
PM
Hakama dressing Course 3
Making Japanese sweets

Museum