Spring Holiday Course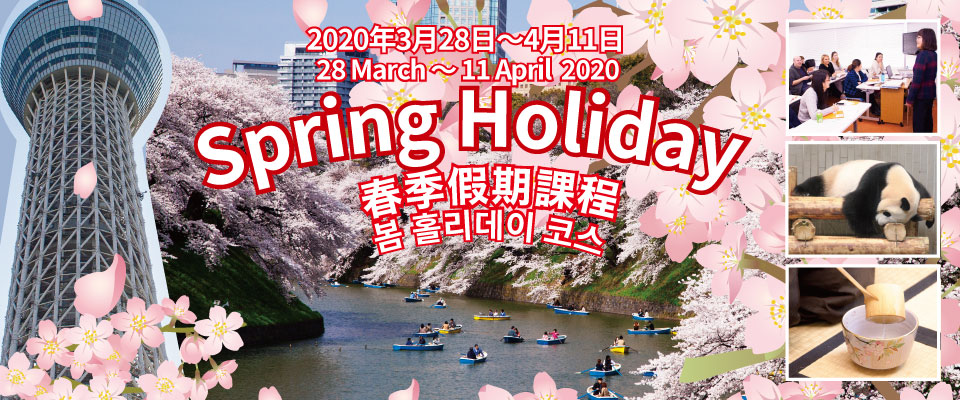 The purpose of this course is to provide students with many chances to practice daily conversation for their spoken & listening skills to be brushed up! In the lessons, you will learn a lot of situational conversation that you may come across during your stay in Japan.
This is the ideal course for student like you who would like to learn Japanese in a relatively short period of time.
2020 Spring Course
| Course | Date | Term | Application conditions |
| --- | --- | --- | --- |
| Spring Holiday Course | 2020/3/28~4/11 | 2weeks | Beginner, Intermediate & Advanced |
Accommodation: Homestay (We can also arrange private dormitory or holiday apartment).
Inclement weather may affect certain outdoor activities and can be changed on the day of the activity.
Course Fees
Course
Fees
With Homestay
Without Homestay
Spring Holiday Course
164,000yen
97,000yen

Fee Includes

Registration Fee, Tuition,Study material,
Activities,Airport Pickup service,
HomestayPlacement,Homestay Fee
(Breakfast & dinner
for weekdays, 3meals for weekends)
Registration Fee, Tuition,Study material, Activities
Guest House / Rent
Guest House 25,000 YEN (Placement fee + Deposit)
Rent 65,000YEN~(Month)
Spring Course
 
Mon.
Tue.
Wed.
Thurs.
Fri.
Sat.
Sun.
3/23
3/24
3/25
3/26
3/27
3/28
3/29
AM
Arrival

PM
 
3/30
3/31
4/1
4/2
4/3
4/4
4/5
AM
Orientation for Course
 
Study 
Japanese
Study 
Japanese
Study 
Japanese
Study 
Japanese
PM
Hakama dressing


 Ueno Zoo
 Tea Ceremony
4/6
4/7
4/8
4/9
4/10
4/11
4/12
AM

Study 
Japanese

Study 
Japanese
Study 
Japanese
Study 
Japanese
Study 
Japanese
Leaving
Japan

PM
Museum
Tokyo Sky Tree

Japanese food
Cooking