Kyoto – the very best place to enjoy the old Japan
Category:Contribution, Diary
---
This month I've went to Kyoto for four days, because right now it's the best season to visit the old imperial city!
Why? It's autumn time and that means not only, that it starts to get colder. When autumn is coming, the leaves start changing their color and Kyoto "wears" for some days a very red dress.
Now you may think, that "everywhere the leaves are changing and Kyoto is nothing special"… but: compared to other cities, like Tokyo, does Kyoto have a lot of more so-called Japanese maple tress (in Japanese: Momiji 紅葉). And these are famous for their attractive leaf shapes and colors.
Even just walking along the riverside of Kumo River can become to one of the most beautiful and colorful views you ever get in Japan – and this absolutely for free!
But Kyoto has also many other plenty to offer: first of all the high amount of famous and really old monuments. There are so many shrines and temples in Kyoto, I couldn't count them, I guess.
In these for days I went to more than twelve different places and I still felt like I haven't seen the half of all what's important to see…
For me the most impressive things have been:
1. Kinkaku-ji: the name says everything. The Kin- (Gold-) temple looks like it's made out of 100% gold. Impressive!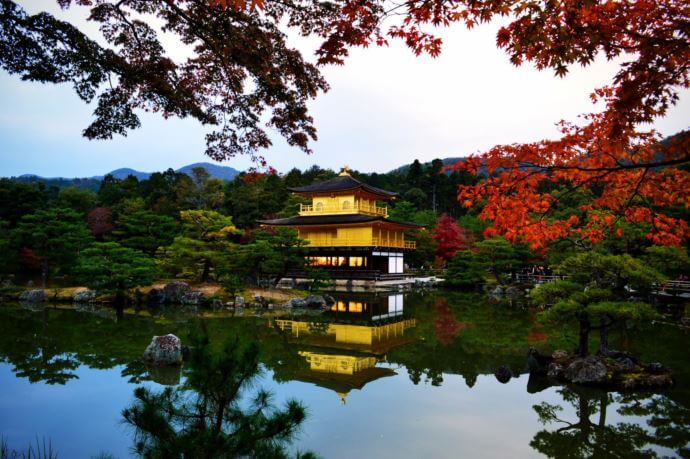 2. Toufuku-ji: far and away the best place to see the autumn colors. Those many kinds of different trees at the temple makes the surrounding colorful like a rainbow.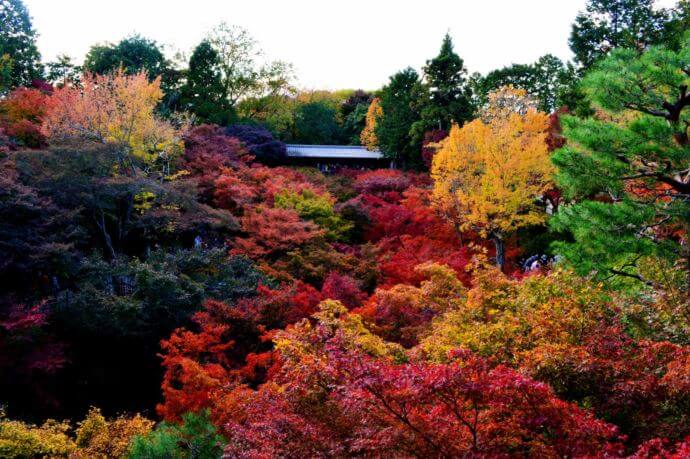 3. Kiyomizu-dera: as a shrine not only for free, also a beautiful building with a nice overview of Kyoto and the most amazing sun rising I've ever had.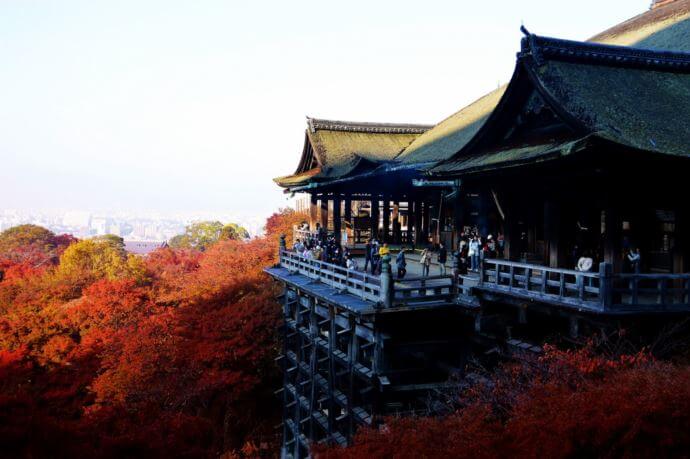 4. Fushimi Inari-taisha: Do you know "Memoirs of a Geisha"? Parts of this movie have been filmed at this shrine. The huge amount of red gates is unbelievable!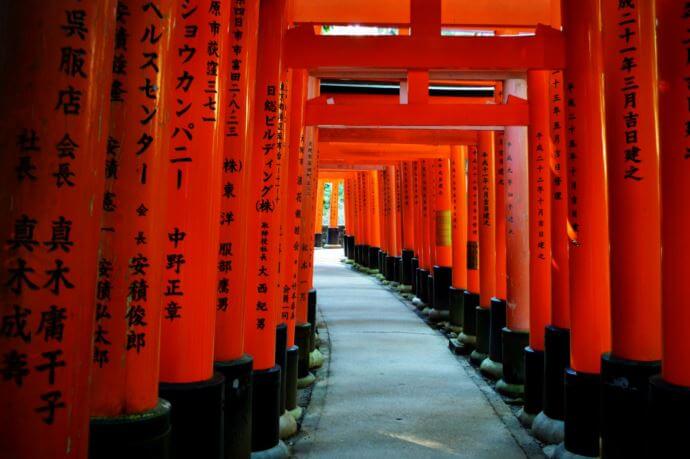 …beside old sanctuaries you can also enjoy really good food in Kyoto.
One of the best addresses for this is "Nishiki Market".
Dried fish, fried fish, squid, meat, vegetables, sweets, noodles… you can find everything there! Especially products with Matcha (fine powder green tea) are famous in Kyoto. So, don't miss to try some tasty Matcha sweets there!
Kyoto has a "different taste" compared to Tokyo. I experienced this especially in the vegetables they are using. But, I guess, you will find these differences in many dishes you are eating in Kyoto.
Another Matcha experience I can recommend is "Tsujiri". This Café is famous for their Matcha tea, ice cream and anything else. But, I am sure you have to wait to get a seat.
So, and after walking a lot and eating a lot there's no better way to finish the day than with relaxing. The very best way for me to relax in Japan is going to an Onsen. Also for this is Kyoto prepared. The so called "Funaoka Onsen" is a really old and traditional bath house in Kyoto. For an entry fee of 390 Yen you can enjoy different baths and a sauna until late night.
Although I have been in Kyoto only for four days (absolutely too less days for me), I enjoyed a lot of great things. Everyone who's in Japan and is interested in historical Japanese culture and flair should try to go there. You will love it!
Juliane (Kudan English Teacher)
Currently accepting Student Visa applications for October 2021.

即日起接受2021年10月留學簽證申請。
---
2013年11月29日 金曜日 12:18 PM Category: Contribution, Diary.