Manga Course Now accepting applications for April 2023!
Category:Creative, Information, Manga course
---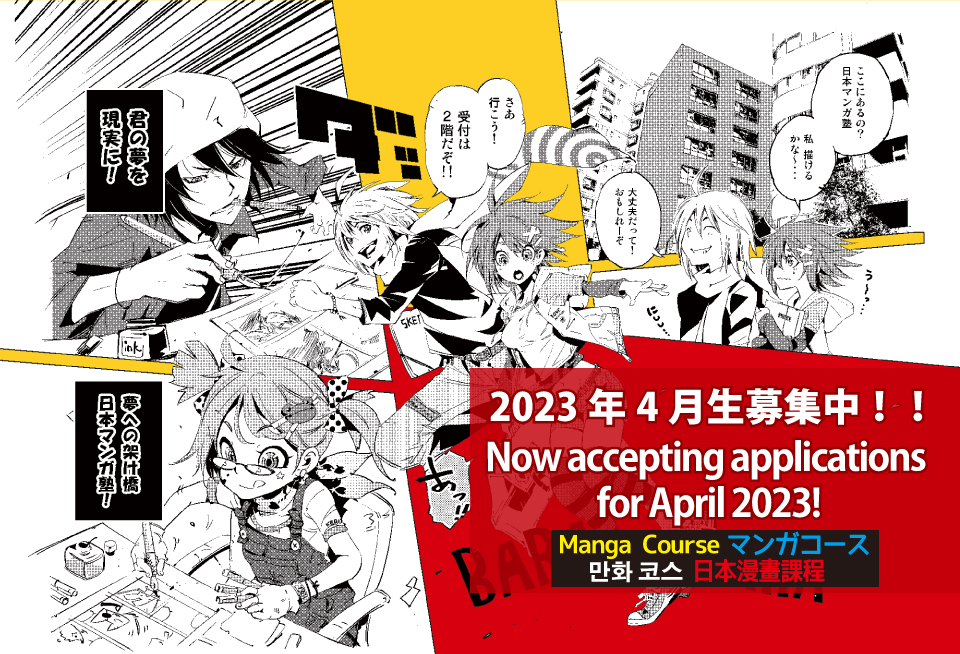 Manga Course Now accepting applications for April 2023!
Due to the coronavirus and Japanese government restrictions on immigration, the Manga Course could not open for a long time, but we are finally able to begin accepting applications for the April 2023 course.
We have not yet decided whether we will offer the course after April, but if there are enough participants in the April Manga Course, we may be able to offer it in the future.
This is a great opportunity to learn directly from a Japanese manga artist, so if you are interested, please apply!
マンガコース2023年4月生募集開始!
コロナウィルスと日本政府の入国制限の影響で長らく開講できなかったマンガコースですが、遂に2023年4月生の募集を開始することができました。
4月以降の開講は未定ですが、4月のマンガコースの参加者が多ければ今後の開催の可能性があります。
日本の漫画家から直接学ぶ事の出来るチャンスですので興味のある方ご応募ください!
About Manga course
The dream course of Japanese language and Manga is now here through the collaboration of Kudan and Mangajuku!(Professional Manga School) You can learn both Japanese and Manga during your short stay of 3 months in Japan.
This course is completely original and is a special course made for those interested in Japanese manga, but is only for students of Kudan Institute of Japanese Language and Culture.
In this course, a professional manga artist together with a bilingual coordinator will assist you according to your level, and whether you are someone who likes reading manga but is a complete beginner in drawing, or for those who are experts at drawing but would like to broaden their expertise, you can be assured that students of any level can take the course.
We have already produced more than 100 student graduates from 37 different countries. While studying Japanese language, you learn how to draw manga characters, and you would be able to create an original character of your own. At the end of this course, along with the Certificate of Completion, you will also receive your works and a manga sketching textbook.
Why not try to directly experience the manga culture that has taken over the world?
今後、世界展開を考えているマンガ専門校「日本マンガ塾」とのコラボレーションが実現! 日本語+マンガの両方を勉強できるコースです。
コースは、プロのマンガ家とバイリンガルのコーディネーターがあなたのレベルに合わせて丁寧に教えていきますので、マンガを読むのは好きだけれど、本格的に描いた事はない、という初心者から自分でデザインの仕事をしているが、幅を広げていきたいと考えているプロの方など、どのレベルの方でも安心して受講頂けます。
すでに37ヵ国100名以上の修了生を輩出。 日本語を勉強しながら同時にマンガの描き方を学び、自分だけのオリジナルキャラクターを完成させます。
コース修了時には修了証と実際に自分が描いた作品、マンガデッサンの教本がもらえます。
是非世界に誇るマンガ文化を直接体験してみませんか?
Currently accepting Student Visa applications for January 2024.

即日起接受2024年1月留學簽證申請。
---
2022年12月23日 金曜日 3:14 PM Category: Creative, Information, Manga course.