"ラーメン二郎(神保町店)" Ramen Jiro ~Kudan food info~
---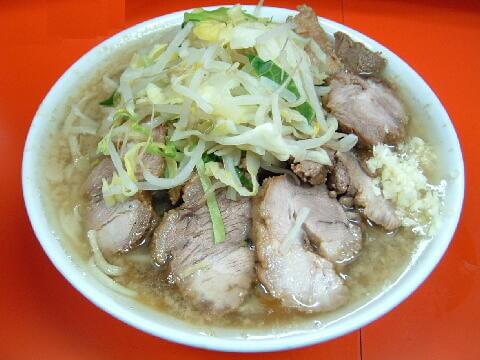 This is one of the ultimate hard core Ramen.
Many Raman mania are attracted it in Tokyo.
Becouse mega volume, deep and stimulating tast and oily.
If you are health conscious, Please do not eat!!
If you wont to know all of ramen in Japan, Please continue to read.
What Is It?
Ramen Jiro is of course technically ramen, but it is somewhat different from any other ramen in Japan. It is tonkotsu broth with shoyu added, but the broth is more like a thinner (but very rich) pork gravy and in most branches it has a large amount of suspended fat (abura). The noodles are (typically) very thick and chewy but not quite as eggy or yellow as regular ramen noodles, and many of the branches make their own, if you see a big green or blue machine that looks like a weaving loom and has flour all over it somewhere in the shop, that's what they make them with. The pork is a very rough cut, usually from the tenderloin but sometimes from some less recognizable part of the pig, and occasionally will be mostly fat. The veggies are usually cabbage or moyashi (bean sprouts), and each branch has its own ratio of the two. Add to this a large amount of chopped garlic (if you want it), usually fresh but not always, and then a few individual stores have optional toppings such as eggs (raw/"nama", 生 or boiled/yude, ゆで), cheese, curry or extra fat from the soup pot, and then curry powder or black pepper on the counter. Many Jiros do not have tissues to wipe your mouth with, or spoons for the broth.

Ramen Tokyo ラーメン東京 – Guides, shop reviews, and maps all in English!
Ramen Jiro is near Kudan. It is 8min by walk .
1.You can see waiting procession to Ramen Jiro,
If you wont to eat ramen, you have to go to rear of a procession.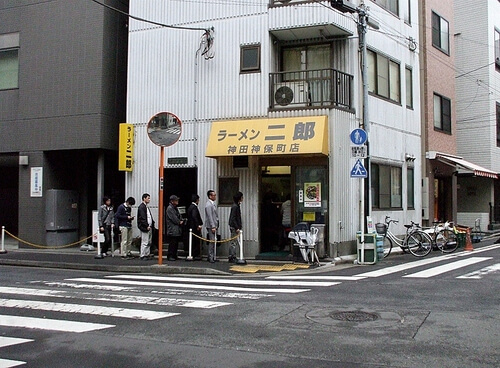 2.You have to buy a meal ticket by ticket machine.
Ramen:650yen
(Recommend normal ramen at the first time.)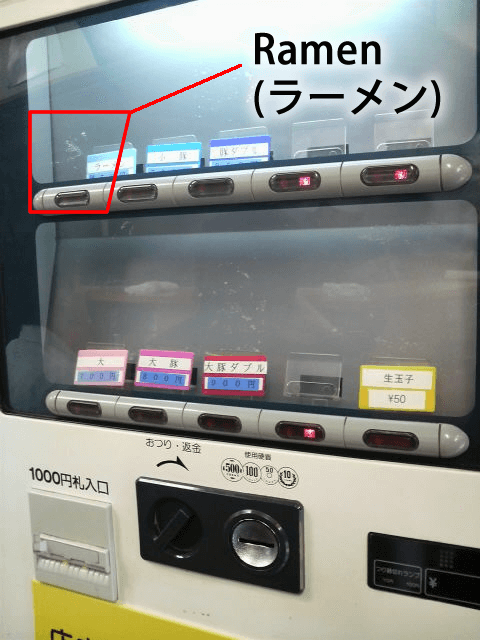 3.Sit down a vacant seat, Waiting ramen.
4.Ramen staff asked you,
「にんにくいれますか?(Ninniku wo iremasuka?)」
"Would you like to girlic slice?"
Answer 「はい(Yes)」or「No(いいえ)」.
5.Let's eat!!
If you want to know more Ramen Jiro English information, refer to below.
Ramen Tokyo ラーメン東京 – Guides, shop reviews, and maps all in English!
Access from Kudan.
Currently accepting Student Visa applications for January 2024.

即日起接受2024年1月留學簽證申請。
---