Kudan's teacher from the perspective of Kudan's students 九段的学生们怎么"观察"九段的老师
Category:Information
---
みなさん、こんにちは!
九段日本語学院です。
先週の木曜1月28日は雪が降りました。
九段instaのストーリーで、雪が降ってとっても嬉しそうな学生の様子を見ることができます。
Kudan Institute(@kudan_institute) • Instagram写真と動画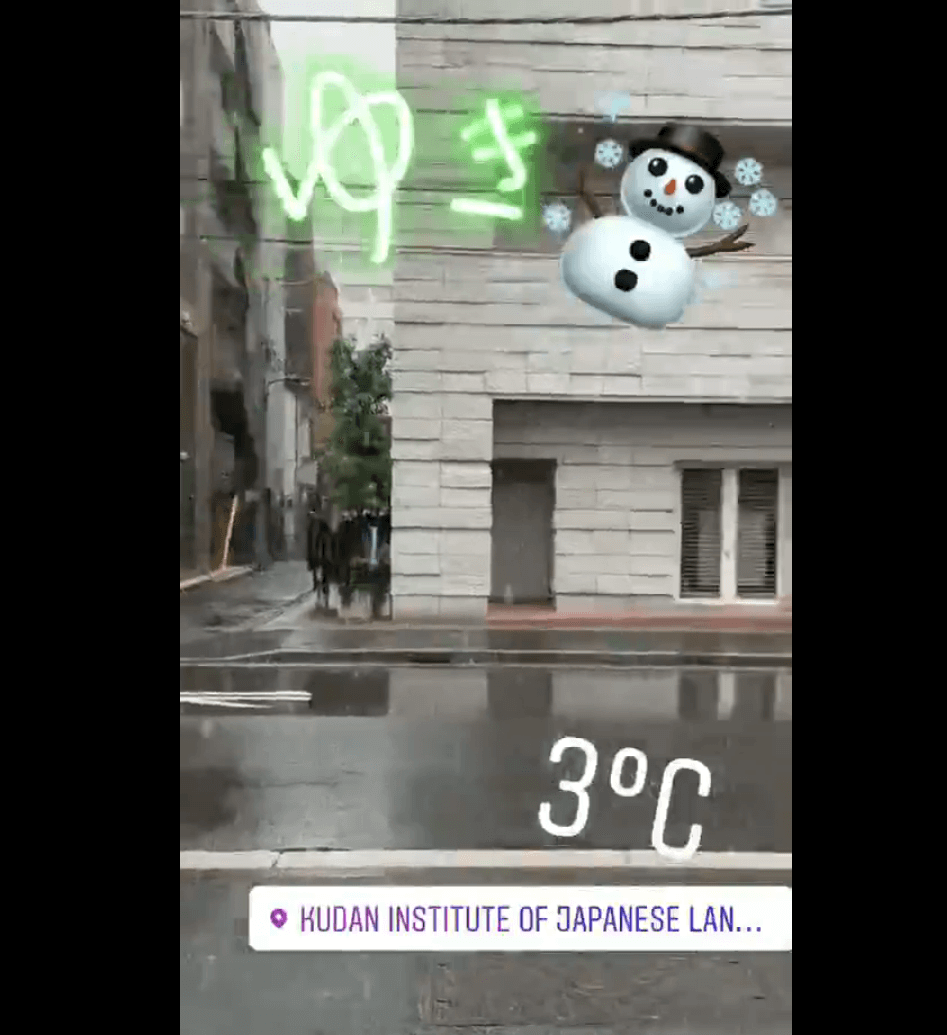 今日は晴れです!!気持ちいい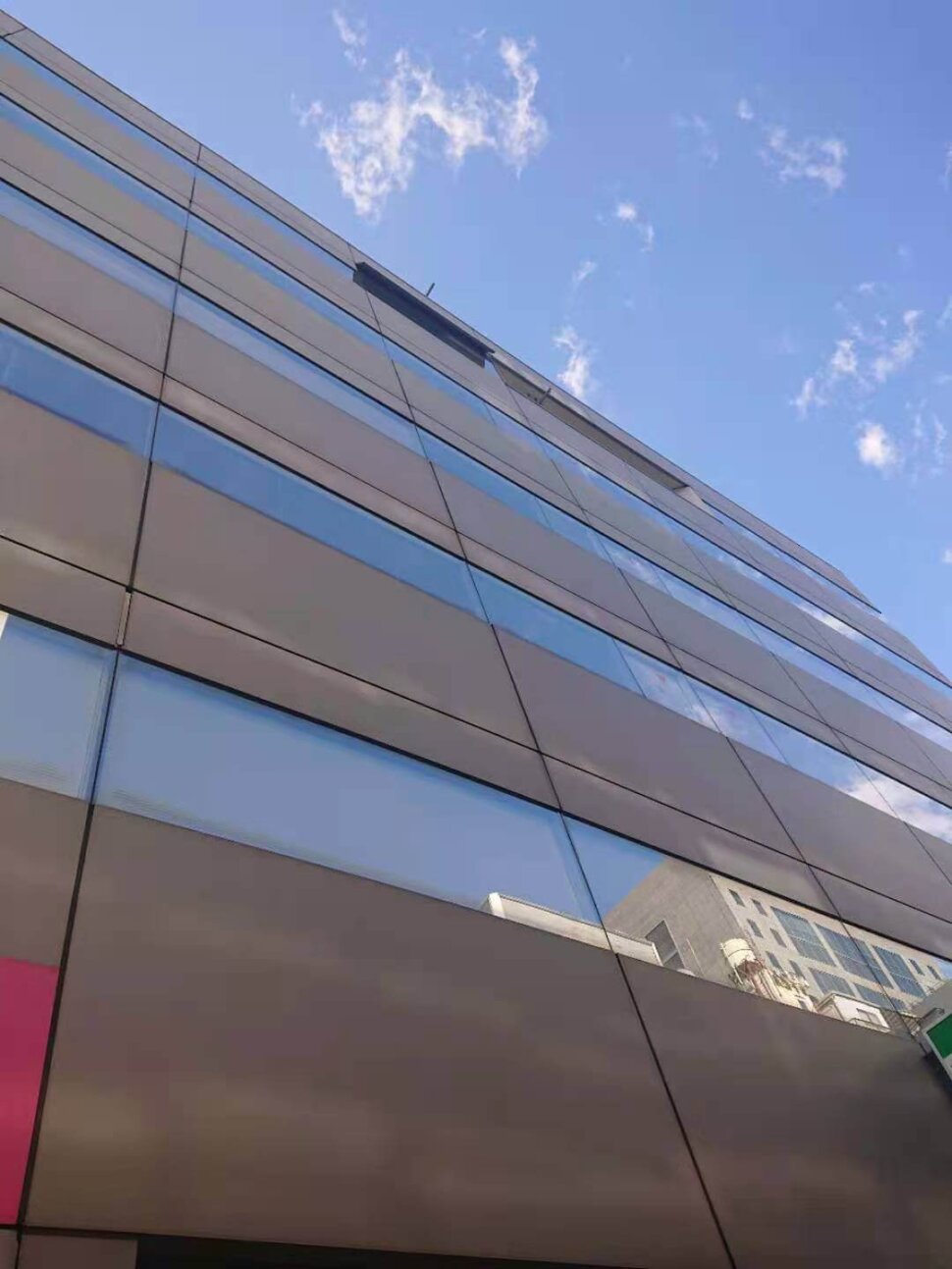 現在、九段では非常勤講師を募集しています。
今日と来週、オンラインでの説明会もあります。
Kudan is currently looking for part-time instructors.
There is an online information session today and next week.
九段日本语学院目前正在招聘日语兼职教师。
今天和下周有线上说明会。
非常勤講師募集に興味がある方は、HPのこちらのページへ。
採用情報| 九段日本語学院、東京の日本語学校 (kudan-japanese-school.com)
最近、私がこのページを見て面白いと思ったのは、
「学生が語る九段の先生ってどんな人?」のところ。
Recently, what I found interesting on this page was the "What kind of person is a Kudan teacher as told by students?"
最近,在这个网页上我发现有趣的是"学生口中的九段的老师们是什么样的人?"的部分。
九段の学生がどのように先生を見ているのかを知ることができます。
You can find out how Kudan students watch their teachers.
您也可以知道九段的学生们怎么观察老师。
3人の学生の視点を借りて、九段の先生たちを見てみましょう。
Let's take a look at Kudan's teachers from the perspective of three students.
我们一起透过三个学生的角度来看看九段的老师们。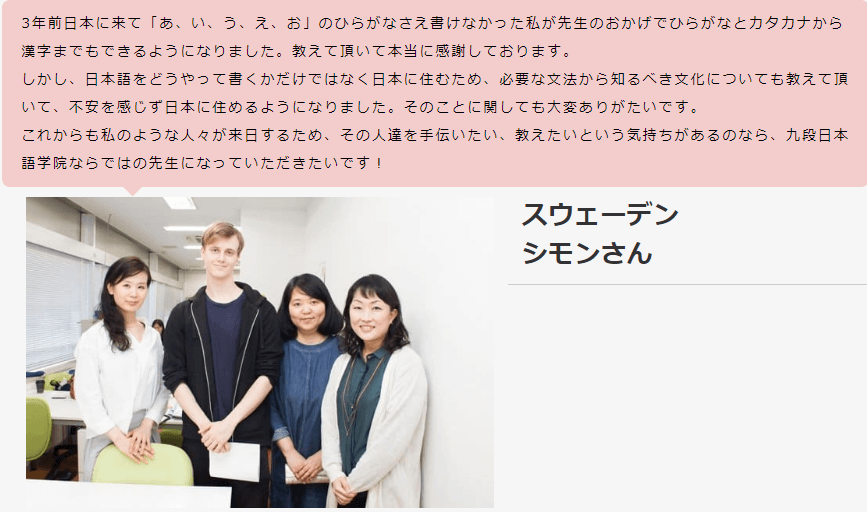 When I came to the school three years ago, I could not even write Hiragana characters "あ、い、う、え、お". Thanks to my teachers, now I can write Hiragana, Katakana, and even kanji. I am really grateful to them for teaching me.
But it's not only how to write Japanese,  they also taught me Japanese grammar and culture that I need to know in order to live in Japan, so I can live in Japan without feeling anxious. I am very grateful to them for that.
If you have a desire to help and teach people like me who are coming to Japan in the future, I hope you will become a  teacher  unique to Kudan!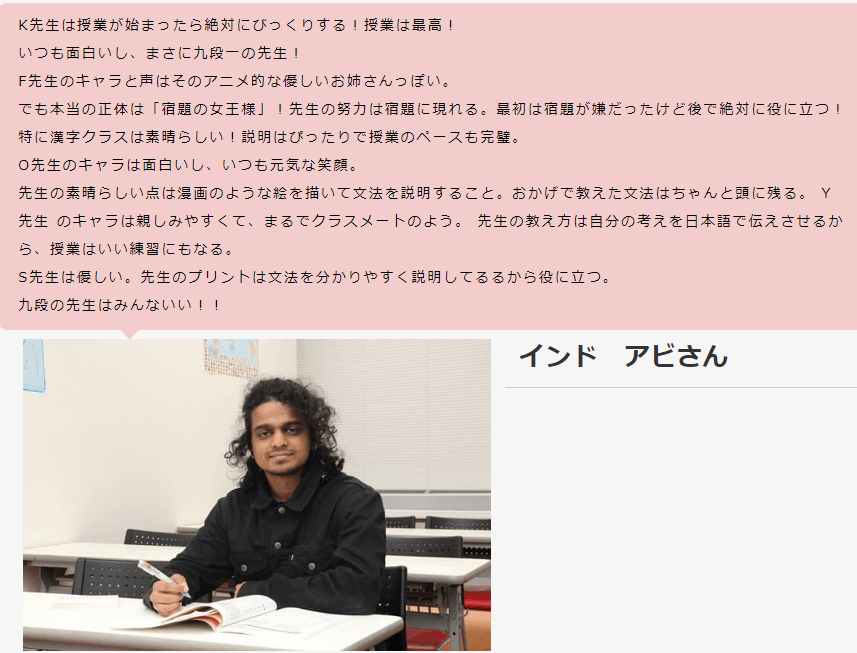 Teacher K   absolutely amazes students when Teacher K starts class! The class is great! Always funny and the best teacher in Kudan!
Teacher F 's character and voice are very cartoon-like, and she is like a kind older sister.
But, her real identity is "the queen of homework"! The teacher's efforts show in her homework. I hated the homework at first, but it definitely helped me later! The Kanji class is especially great! The explanations  is spot on  and the pace of the lesson is perfect.
Teacher O's character is funny and she/he always has a cheerful smile. The great thing about she/he is that he draws pictures like a cartoon to explain grammar. Thanks to Teacher O, the grammar she/he  taught  stays in my head.
Teacher Y's character is very friendly and is like a classmate. The way of teaching is to make you express your thoughts in Japanese, so the class is good practice place for me.
Teacher S is kind,   her/his handouts are very useful because explain grammar in an easy – to- understand way.
All the teachers at Kudan are good!!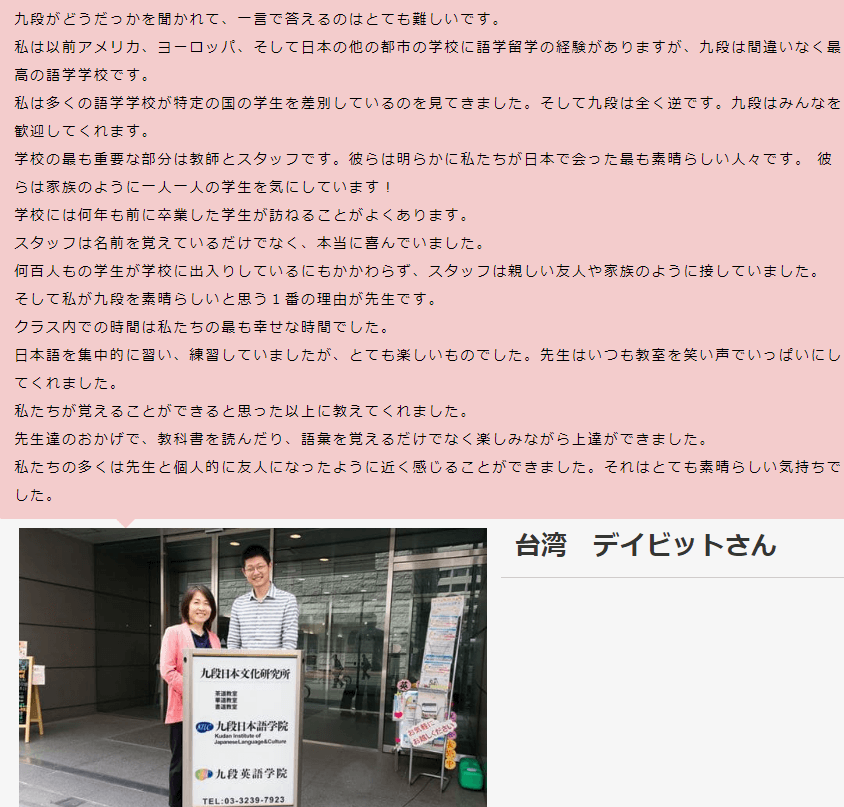 When asked how Kudan is, it is very difficult to answer in one word.
I have  previously studied abroad in schools in the USA, Europe, and other cities in Japan, but Kudan is arguably the best language school.
I have seen many language schools discriminate against students in certain countries. And Kudan is exactly the opposite. Kudan welcomes everyone.
The most important parts of the school are teachers and staff. They are clearly the most wonderful people we have met in Japan. They care about each and every student like a family!
School  are often visited by students who graduated many years ago. Kudan staff not only remembered student's name, but also looked  really happy.
Despite hundreds of students going in and out of Kudan, staff treated them like close friends and family.
And the main reason why I think Kudan is great is the teachers.
Our time in class was our happiest time.
We learned and practiced Japanese intensively, and it was a lot of fun. Teachers always made classroom full of laughter.
They taught us more than we thought we could learn.
Thanks to the teachers, we could not only read the textbooks and memorize the vocabulary, but we could also have fun while improving.
Many of us felt so close to our teachers that we became personal friends with them. It was a wonderful feeling.
九段の先生との思い出を話してくれる人がいたら、下のメールアドレスにご連絡ください!!
h.suzuki@kilc.co.jp
Currently accepting Student Visa applications for January 2024.

即日起接受2024年1月留學簽證申請。
---
2021年2月4日 木曜日 3:00 PM Category: Information.