Kudan letter Vol.3
Category:Diary, Information
---
九段通信 第三号
こんにちは。
今回は、事務の山中が九段通信を担当します。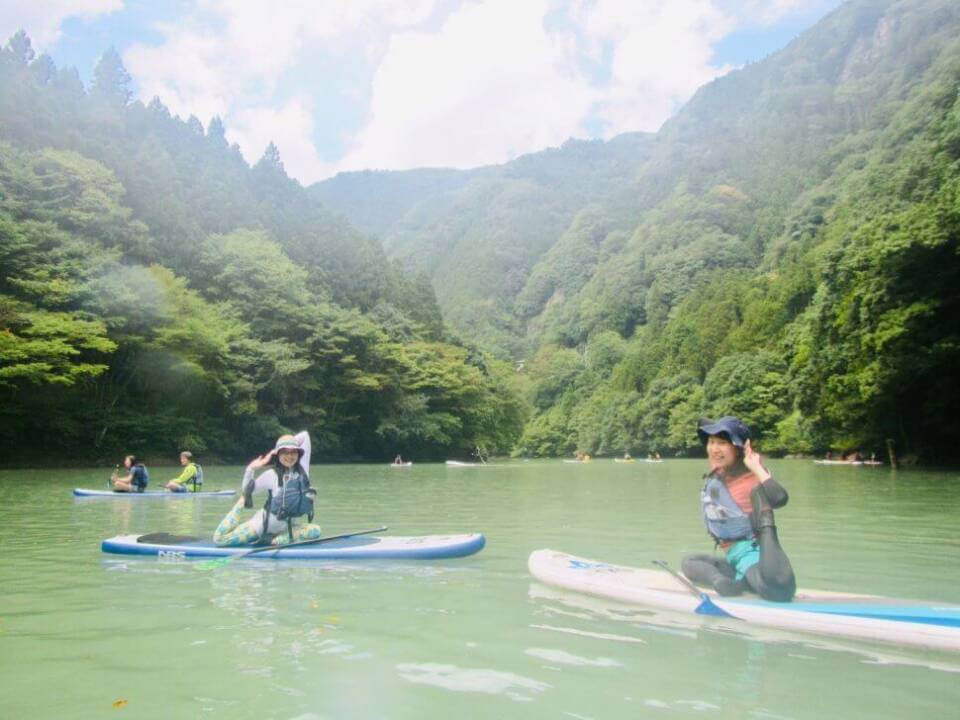 *2018年夏 奥多摩の白丸湖上にて ヨガの先生とSUPをしながらヨガポーズ(鳩のポーズ)
みなさん、自宅で過ごすことが多いと思うのですが、運動していますか?
私は、ヨガ教室に通っていましたが、今はジムもお休みだし、コロナウィルスのことがあってから全然できていません。
家にヨガマットとストレッチポールはあるのに、なかなかやる気になれません。
たまにスーパーに行くついでに散歩をしていますが、30分~1時間くらいゆっくり歩いてもあまりカロリーは消費しません。最近You Tubeやinstagramでインストラクターがライブでエクササイズをしているのを見て、少しずつ運動を始めました。一緒に誰かとライブでやるとやる気が出ますね!
みなさんが普段している運動はありますか?もしおすすめの運動があったら、instagramなどでシェアしてください。
You Tubeを検索してみたのですが、良さそうな動画を見つけたので、みなさんにシェアします。ヨガのストレッチ動画です。日本語のリスニングの練習にもなると思います。字幕もあるし、ヨガなので、動きを動画で見れば、理解もしやすいのでおすすめです。

それから、みなさん、一つお知らせがあります。
4月24日(金曜日)の日本語質問zoom(11:00~12:00)はお休みです。
おしゃべりzoom(12:00~13:00)はあります。
みなさん、ぜひ利用してくださいね。
Kudan letter Vol.3
Konnichiwa.
This is Aya Yamanaka, I will be in charge of Kudan letter Vol.3.
I believe you all spend a lot of time at home, but are you exercising?
I used to go to a yoga class, but now the yoga studio is closed and haven't been able to do it because of the corona virus.
I do have a yoga matt and "a Stretch Pole" at home, but it's hard to motivate myself to do it.
I occasionally go for a walk to the supermarket, but even if I walk slowly for 30 minutes to an hour, I don't burn much calories. I recently saw instructors doing live exercises on You Tube and Instagram, so I started doing a little bit of exercise. It's so motivating when you do it live with someone else!
What kind of exercise do you do on a regular basis? If you have any recommendations for exercise, please share them on Instagram or elsewhere.
I searched You Tube and found a good video of Yoga, so I'll share it with you. This is a yoga stretching video. I think it will also help you practice your Japanese listening skills. There are subtitles, and since it's yoga, it's easy to understand if you watch videos of the movements, so I recommend it.
Also I have one announcement.
There will be no zoom for questions about Japanese language (11:00-12:00) on Friday, April 24th.
There will be Chat zoom(12:00-13:00).
Please try to use Chat zoom.
九段通信 第三號
大家好.
這次通信學務部的山中來擔任.
最近你們待在家的時間比較長,平時有沒有做運動?
以前我參加瑜珈教室,不過現在因為新型冠状病毒而健身房都不營業,所以沒有運動.
雖然在家也有瑜珈墊子和彈力球,不過沒有心情做運動.
偶爾去超市買東西的時候,順便散歩,不過走路半個小時到1個小時也不會燃燒卡路里 吧.
最近我看著You Tube和instagram上講師播放的熱身鍛錬身體的直播,我也開始運動了.跟別人一起運動,會更有心情做運動.
你們有沒有平時做的運動?如果你有可以推薦的,請通過instagram分享一下.
我最近在You Tube上找到了比較好的視頻,現在跟你們分享一下.你們也可以把它作為聽力的練習看看.有字幕而且因為是瑜珈, 你們會看動作就很容易看明白.我很想給你們推薦.
還有一個向你們通知.
4月24日(週五)的日語提問zoom(11:00-12:00)休息一天.
不過跟平時一樣開設聊天zoom(12:00-13:00).
***********************
九段日本文化研究所日本語学院
Kudan Institute of Japanese Language & Culture
E-Mail teacher@kilc.co.jp
HP www.kilc.co.jp
facebook → https://www.facebook.com/KudanInstitute/
instagram → @kudan_institute
You Tube → チャンネル登録してください↓
https://www.youtube.com/user/kudanjpschool/featured
bilibili → https://space.bilibili.com/484078195
***********************
Currently accepting Student Visa applications for October 2021.

即日起接受2021年10月留學簽證申請。
---
2020年4月23日 木曜日 9:36 AM Category: Diary, Information.