Kudan letter Vol.1
Category:Diary, food, Information
---
みなさん、こんにちは!
昨日の東京は天気が悪くて寒かったし、なかなか元気が出ませんね…。
みなさんはどうですか?
今はみんな一人で生活していますが、そんな時でも一緒に何かをシェアできたらいいなあと思って、これからたまに色んなことをシェアしていきます。
まずは、このマンガ、「でぶぼの」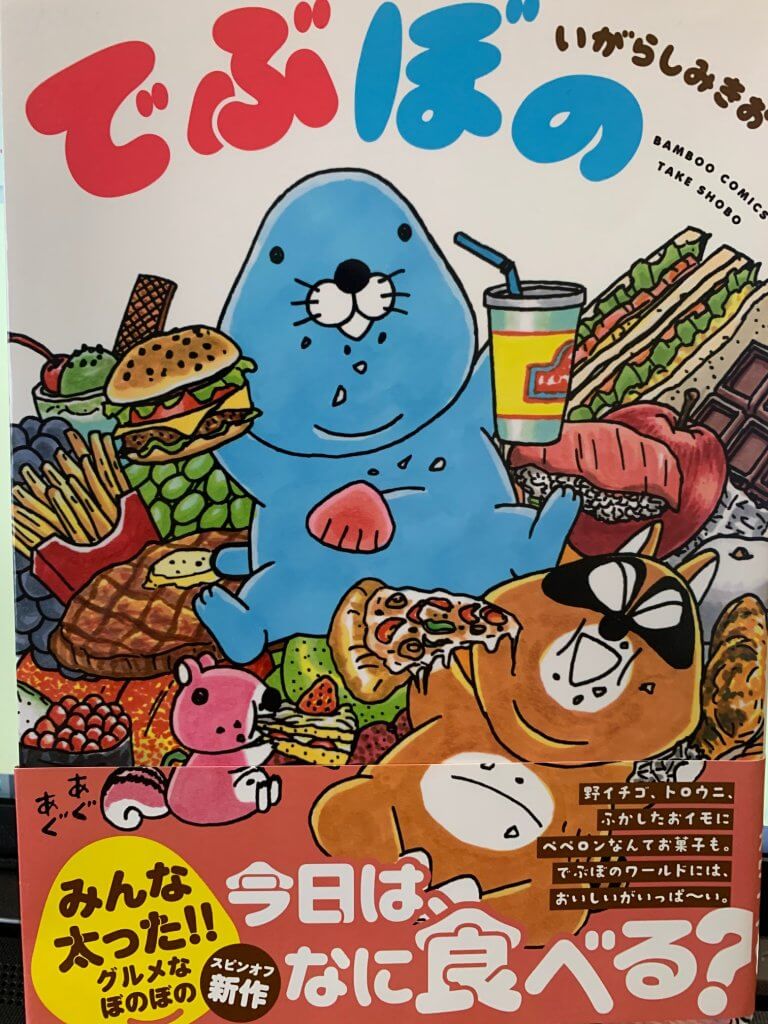 「ぼのぼの」という有名なマンガ(アニメ)があります。
http://www.bonoanime.jp/
みんな知っていますか?
森に住むぼのぼのという動物たちが、食べすぎて、まるまると太ってしまって、「でぶぼの」になってしまったというマンガです。
ドラマチックなことは何も起こりません。でも、みんな毎日楽しそうに食べたり、(ちょっと体が重そうですが)遊んだりしています。芋を掘ったり、魚を取ったりする普通の日常が描かれているだけです。
でも読み始めると、いつの間にかリラックスしています。そして読み終わると、よし、私もおいしいものを食べようと立ち上がり、料理を作って食べます。すると、心の中の寂しさがちょっと消えて、元気になってきます。
やっぱり何も食べないと生きていけないし、何か食べると元気になるし、食べるってとても大切だなあって思います。
みんな、今日は何を食べますか?
みんなおいしいものを食べて、元気になりましょう!
Konnichiwa.
Yesterday, the weather in Tokyo was bad and cold, so it's hard to feel energized…
How about you?
From today, we will sometimes post "Kudan letter".
We all live by ourselves, but I thought it would be nice to share something with you.
Today I would like to share this comic "DEBU-BONO".
There is a popular animation called "BONOBONO"(not "Buono Buono" in Italian).
http://www.bonoanime.jp/
Do you know this animation?
This comic is about bonobono(a blue sea otter) and these animals who lives in a forest, has eaten so much that he has grown fat and became "DEBU-BONO".
Nothing dramatic happens. But they all seem to enjoy eating and playing (although they seem a bit heavy) every day. It just depicts the normal routine of digging for potatoes and catching fish.
But before I knew it, when I start reading it, I relax. And when I finish reading it, "okay, I'll get up to eat something delicious, cook and eat it too." Then, the loneliness in my heart will disappear a little and I will more energized.
If you don't eat something, you can't live without it. And if you eat something, you will be energized, and I think eating is very important.
What are you eating today?
Let's all eat some good food and be energized!!
大家好!
昨天天氣不好,而且有點冷.所以有點沒精神.
你們過的還好嗎?
從今天開始不定期地發給你們"九段通信".
我們之所以發給你們"九段通信",是因為雖然現在大家單獨生活,但是這樣的時候我們也想跟你們分享分享有意思的東西.
今天我給你們介紹的是,這部漫畫「でぶぼの」
在日本有一部名叫「ぼのぼの」的很有名的漫畫.
http://www.bonoanime.jp/
你們在哪裡看過嗎?
這部漫畫描繪的是
在森林裡居住的名叫ぼのぼの的動物們,吃太多而變成胖胖的「でぶぼの」.*でぶ是胖子的意思
漫畫裡沒有發生有戲劇性的事件.不過,他們每天開心地吃飯(雖然看起來他們身體有點沉重),愉快地玩..這部漫畫只描繪他們的挖掘芋頭或者捕捉魚等等的日常生活.
但是呢,我一開始看這部漫畫,就不知不覺可以放鬆.然後看完之後,好!我也想吃好吃的,起來就做飯吃.於是,心理的寂寞感也稍微消失,而且打起精神來.
果然我們不吃飯不能活下去,一吃點東西就有精神,我覺得吃東西還是很重要的事情.
大家,今天打算吃甚麼呢?
我們吃好吃的,打起精神來吧!
Currently accepting Student Visa applications for January 2024.

即日起接受2024年1月留學簽證申請。
---
2020年4月14日 火曜日 10:29 AM Category: Diary, food, Information.