JLPT 日本語能力試験情報 Information about the JLPT
Category:Information
---
みなさん、こんにちは。
本日から7月に行われたJLPTの結果を確認できます。
受験した場所によって見られる期間と内容が違うので、詳しくはこちらをごらんください。
From today, you can check the results of the JLPT that took place in July.
The period of time and contents that can be viewed differ depending on where you took the test, so please click here for details.
試験結果発表 | 試験の実施と結果通知 | 日本語能力試験 JLPT
また、今月26日から12月の試験の申込が始まるようですので、受験をお考えの方はご留意ください。
And,  the application for the December exam will start on the 26th of this month, so if you are thinking of taking the exam, please keep that in mind.
JEES Japanese Language Procifiency Test Home (jees-jlpt.jp)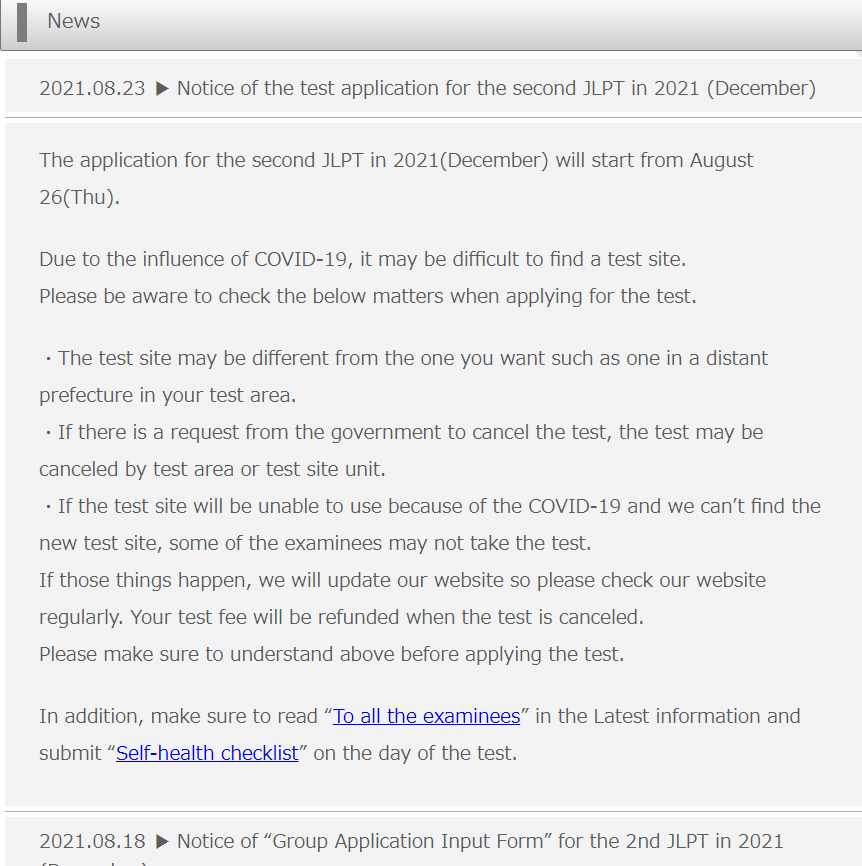 九段のおすすめコース
「テストに向けてどこを、どうやって強化したら良いのか分からない」、
「テストの時間配分が上手くできない」
「自分だけでの勉強では不安だし、なかなか集中できない」
そのようなお悩みをお持ちの方におすすめのコースがあります。
"I don't know where or how to strengthen my skills for the test."
"I can't allocate time well for tests."
"I feel uneasy studying by myself, and it is hard for me to concentrate to study for exam."
If you have any of these problems, we have a course for you.
九段では12月のJLPT試験に向けてN2対策コースを開講します。
7月の対策コースは参加者全員が無遅刻無欠席で全授業を終えました。
At Kudan, we will start N2 preparation course from the latter half of October for the JLPT exam in December.
In the preparation course held for the July exam, all participants finished the entire class without any tardiness and absence.
JLPT N2対策コースの特徴
Features of the preparation course from October
平日の2日(月・水)夕方レッスン
Evening lessons on two weekdays (Monday and Wednesday)
1クラス定員4名の超少人数クラス
Very small classes with a maximum of 4 students per class
インターネットでの参加もOK
You can also participate via the Internet
入学金なし
No entrance fee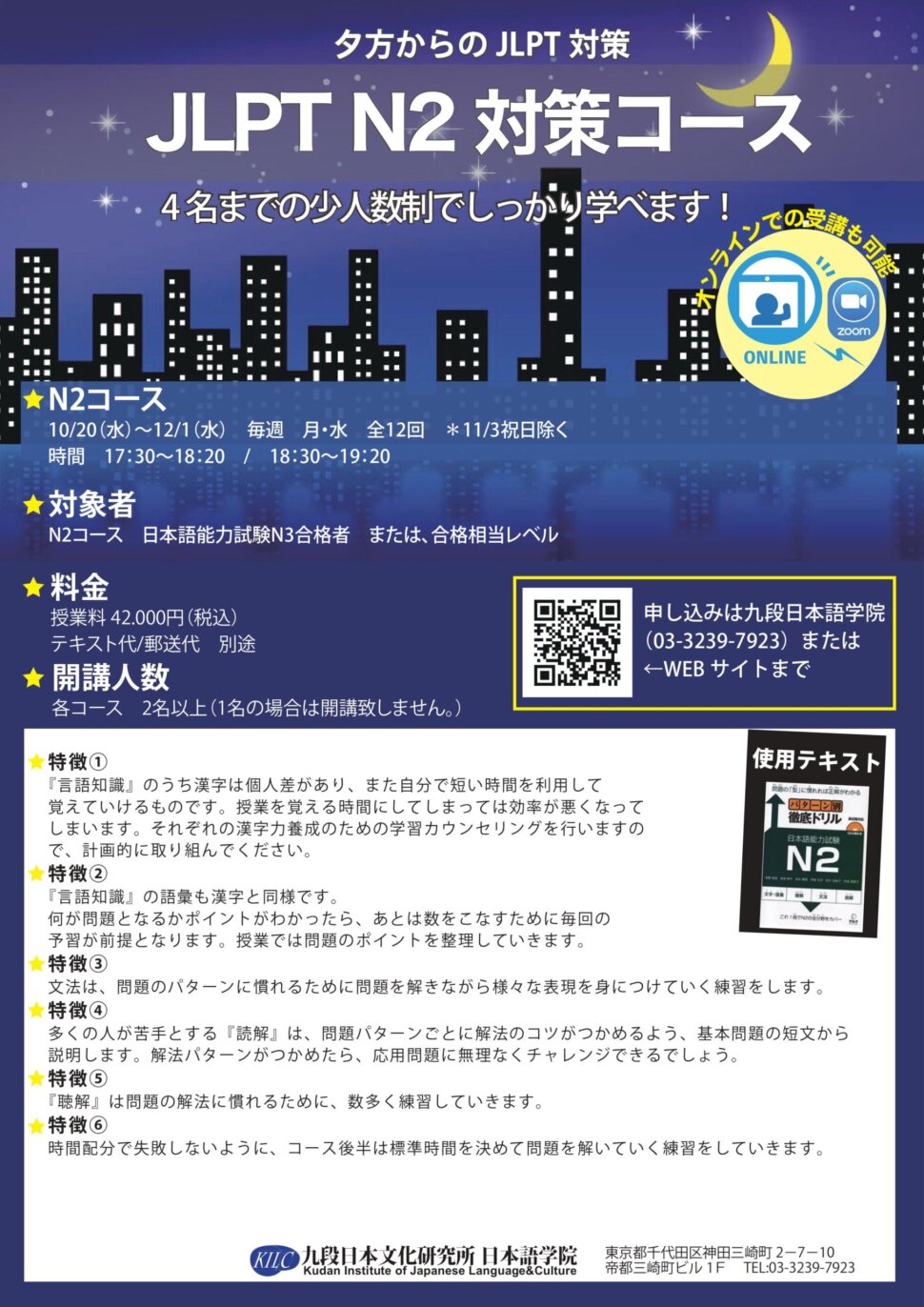 詳しくはこちらをご覧ください。
For more information, please click here.
日本語能力試験(JLPT)対策| 九段日本語学院、東京の日本語学校 (kudan-japanese-school.com)
Currently accepting Student Visa applications for January 2023.

即日起接受2023年01月留學簽證申請。
---
2021年8月23日 月曜日 3:22 PM Category: Information.