これが分かれば日本語能力試験(JLPT)N2レベル! If you know this, you're at JLPT N2 level!
Category:Information
---
みなさん、こんにちは。
昨日は日本語能力試験(JLPT)でしたね。
受験された方、お疲れ様でした。
また、コロナの影響で受験できなかった方は次回に向けて頑張ってくださいね。
Yesterday was the Japanese Language Proficiency Test (JLPT).
If you have taken the test yesterday, how was your exam?
Also, for those who couldn't take the test due to the COVID-19,  please do your best for next time.
突然ですが、問題です。 Suddenly, here's a question.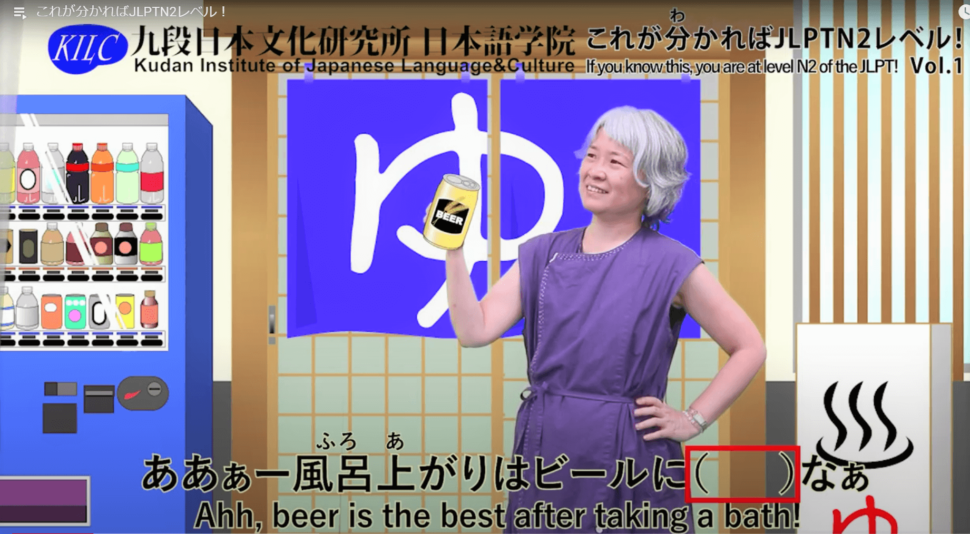 風呂上がりはビールに(    )なぁ
 つける
 かぎる
 先立つ
 基づく
正しいのはどれだと思いますか。これが分かればあなたはJLPTN2レベルです!
答えはこちらの動画でチェックしてみてくださいね。
What do you think is the correct one? If you know this, you're JLPT N2 level!
Check out this video for the answer.
どうでしたか?正解でしたか? Was your answer correct?
九段日本語学院ではJLPT対策のためのオンラインクラスがあります。N1~N5全レベル対応可。
Kudan has online classes for JLPT preparation (for N1~N5).
JLPTオンラインプライベートレッスン| 九段日本語学院、東京の日本語学校 (kudan-japanese-school.com)
JLPT試験は日本の企業や学校での基準として見られることも多いとても大事なテストです。
九段のこのクラスはプライベートレッスンなので、あなたに最も適したレッスン内容で合格を目指すことができます。
しっかり対策して2022年ワンランク上の日本語を身に着につけましょう!
The JLPT is a very important test that is often seen as a standard in Japanese companies and schools.
This class is a private lesson, so you can aim to pass the exam with the lessons that are most suitable for you.
Let's prepare well and acquire a higher grade of Japanese language in 2022!
Currently accepting Student Visa applications for January 2023.

即日起接受2023年01月留學簽證申請。
---
2021年12月6日 月曜日 3:36 PM Category: Information.