九段畢業生留言(台灣)Message from Kudan graduate (Taiwan)
Category:Contribution, Information
---
From all the staff of Kudan Institute, thank you very much for your heartfelt message!
This is very encouraging for us in order to continue to have a satisfaction performance for all our students!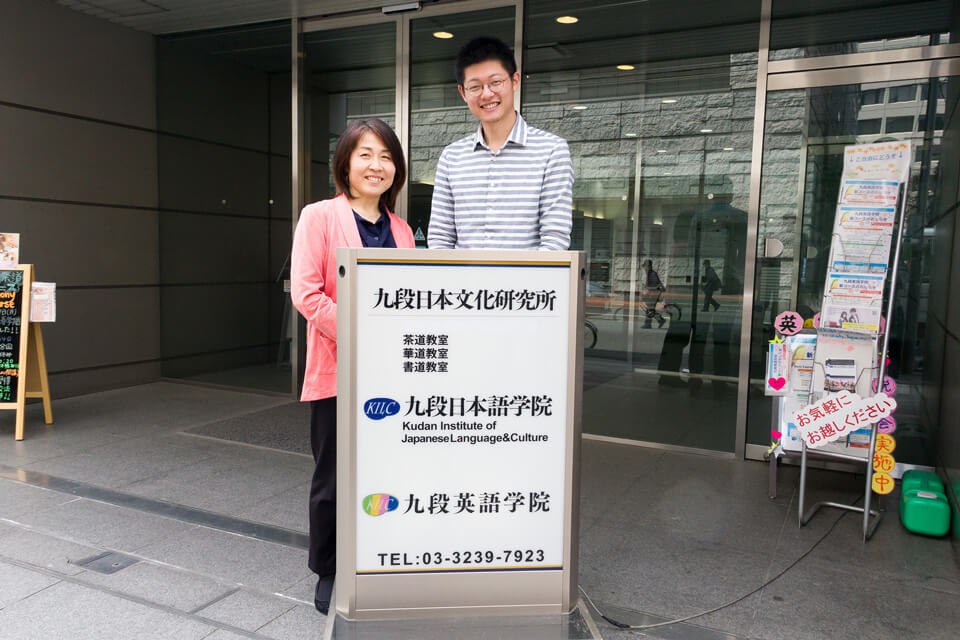 九段絕對是我去過最好的語言學校。
我去過美國、歐洲、和日本各地的語言學校,九段無疑是最完美的。
從入學前,九段的申請過程就特別順利。九段的職員不會像很多語言學校,特別偏好某些國家的學生。當初的申請過程讓我感覺很被歡迎,且很順也很快。
從很多過程都可以感覺到九段把事情處理得很好。每個細節,從寄宿家庭到入學考試,都順暢不會出錯,甚至讓學生都感覺舒適不會感到錯愕或尷尬。
課程一開始我就注意到班上的學生是平均來自世界各地。這真的營造一個很好的氛圍,因為班上沒有歧視,更沒有小團體。很難能可貴的營造出『大家都是朋友』這樣的氣氛。不只是上課時不會尷尬,最後大家都繼續聯絡,變成很好的朋友。
九段最難得的應該就是他們的老師跟職員。在九段的期間,我們常看到有舊生回來拜訪。九段的職員不只能記得他們的名字,看到每個同學都相當的開心。在這段期間,我們感受到每位職員都是真心、用心的在照顧、在乎學生,就像照顧自己家人一樣。
九段的教師更是讓這個學校珍貴的地方。在日本的期間,反而是在教室的時間是大家最開心的時候。九段的每位老師都把教室營造成非常非常快樂的學習環境。更厲害的是,在校期間我們都沒有,更不需要,用死背的方式念日文背單字。反倒是因為老師用很街身有趣的方式讓我們學日文,在每天課程結束後我們都能直接記得和講出來。甚至我們很多學生最後都加老師FB,何老師變成很好的朋友。
九段對我們來說不只是語言學校,九段是在日本的家。
– David , 2018 春季
Message from Kudan graduate (Taiwan)
I can't say enough good things about Kudan.
Personally, having been to multiple language schools in the US, Europe, and other cities in Japan, Kudan is undoubtedly the best language school I've been to.
From the beginning, the application process was straightforward and simple. What I appreciated the most was that they're genuinely welcoming students from ALL backgrounds. I've seen many language schools discriminating against students from certain countries, and Kudan does the opposite: they made everyone feel welcomed.
Throughout the process, I felt comfortable seeing how the school handles everything. From the host family to the entrance exam on the first day, you'd see their professionalism; how they handle everything with experience to make students feel comfortable.
As the class started, I noticed that I had classmates from all over the world. The even mix of nationalities created a very friendly environment! There was no discrimination, no judgement, and especially no "grouping into countries". It was a very very friendly environment that is not only comfortable for learning, but also perfect for making lots of friends.
The most important part of the school is the teacher & staff. They're hands down the most wonderful people we've met in Japan; they care about every single student like family! We often see old students that attended the school years ago coming to visit, and the staff could not only remember their names, but are genuinely happy to see them. Even with hundreds of students going in and out of the school, the staff would personally care for every single student, just like a good friend and a family member.
Finally, what made Kudan so wonderful is probably the teachers. The time in the classroom is our happiest time. We were learning and practicing Japanese intensively, but we had a tremendous amount of fun. The teachers ALWAYS made the classroom filled with laughter, while able to teach us more than we thought we could memorize. We were able to learn quickly and happily with not only reading textbooks and memorizing vocabularies, all thanks to our teachers. Many of us became personal friends with the teachers; that's how wonderful they made us felt.
Kudan is more than a great language school; it's a family in Japan for all of the students. From the staff, the teachers, the host families, to the students, Kudan created a family.
– David Lee , 2018 Spring
Currently accepting Student Visa applications for January 2024.

即日起接受2024年1月留學簽證申請。
---
2018年4月3日 火曜日 10:11 AM Category: Contribution, Information.