Let's try to cross Tokyo's Rainbow Bridge(レインボーブリッジを歩いて渡ってみよう)
Category:Diary, Japanese, Tourism
---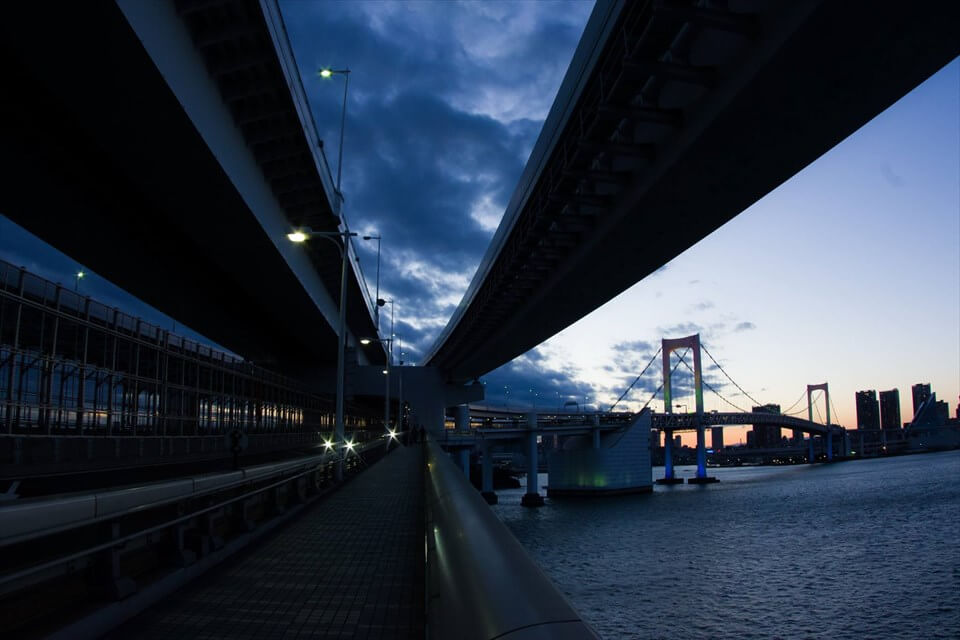 レインボーブリッジはお台場を結ぶ橋です。
レインボーブリッジには車や電車が通っていますが人も無料で渡ることができます。
Rainbow Bridge is a bridge connecting to Odaiba. Vehicles and trains pass through this bridge, and people as well can go across for free.
まだ観光客も少なく、東京湾の綺麗な景色が一望できるとっておきの場所なので写真を撮りながらお散歩するのも楽しいですよ。
特に夕方にかけてが綺麗な景色を見ることができるのでお勧めです。
There are still a few tourists who know about crossing this bridge, and it is a great place to enjoy the beautiful view of Tokyo Bay, so it is fun to take a walk while taking photos. It is recommended to come here especially in the evening as you can see such a beautiful scenery.
レインボーブリッジの渡れる時間 (When you can cross the Rainbow Bridge)
営業:9時~21時(11月~3月は10時~18時)
休業:第3月休、定休が祝は翌休、悪天時は休
Open: Every day from 9AM-9PM (10AM-6PM from November to March)
Closed: On the 3rd Monday of every month, on the next day if a holiday falls on a weekday, in cases of bad weather
料金 (Fee)
無料 (Free)
最寄り駅 (Nearest Station)
(1)ゆりかもめ線お台場海浜公園駅より徒歩15分、又は芝浦ふ頭駅より徒歩5分
(1)A 15-minute walk from Yurikamome Line Odaiba Seaside Park Station or a 5-minute walk from Shibaura-futo Station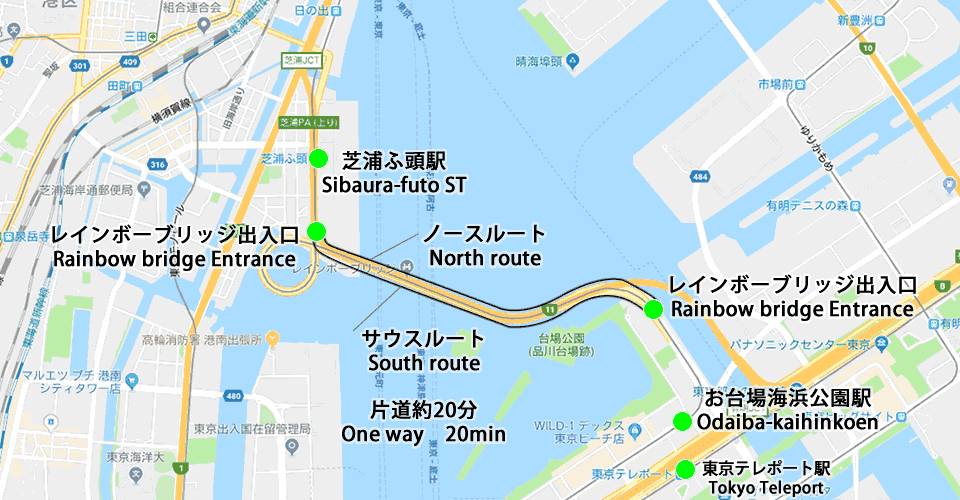 レインボーブリッジは東京の街を見ることができるノースルートと、東京湾を見ることのできるサウスルートがあります。
私は、夕方に芝浦ふ頭駅からサウスルートを使いお台場にわたり暗くなってからノースルートで芝浦ふ頭に戻りました。
The Rainbow Bridge has a north route where you can see the city of Tokyo and a south route where you can see Tokyo Bay. I went back from Shibaura-futo Station to Shibaura-futo on the north route after it started to get dark over Odaiba using the south route.
サウスルート(South Route)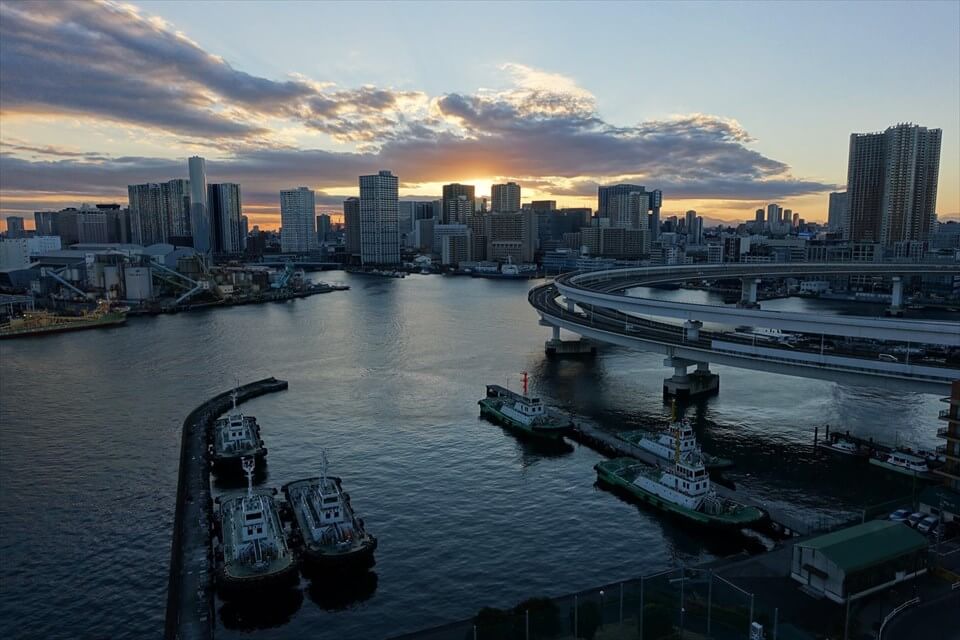 東京に沈む夕を背にお台場に向かいます。
The sunset in Tokyo facing Odaiba.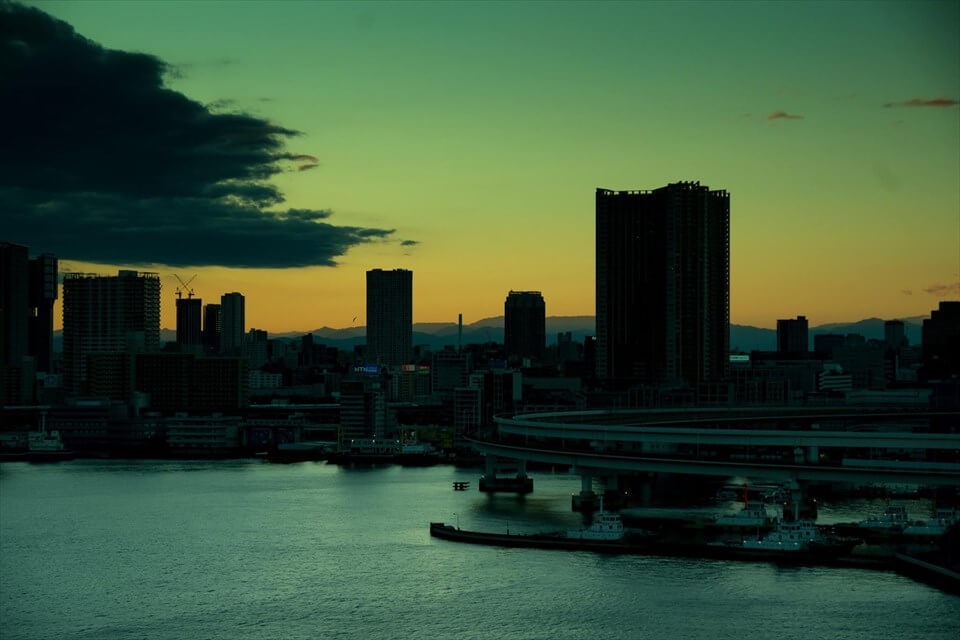 富士山が見えることもあるそうですがこの日は見えませんでした。
Mt. Fuji can usually be seen from here, but it did not seem to appear today.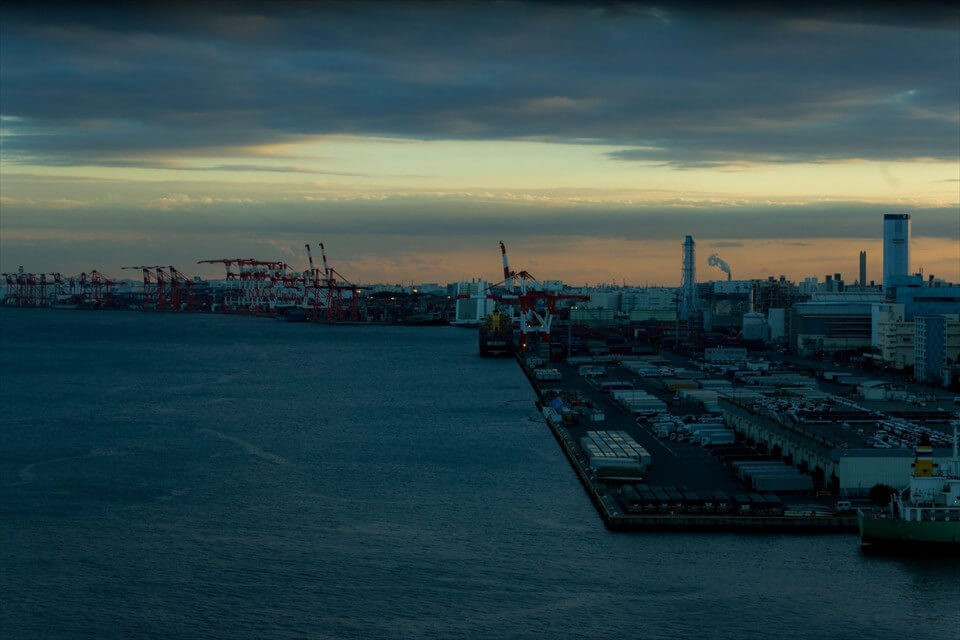 船との荷渡しに使う大きなクレーンはガントリークレーンと言って動物のキリンに似ているのでキリンと呼ばれています。
A large crane used for shipping with a ship is called a gantry crane because it resembles the animal giraffe.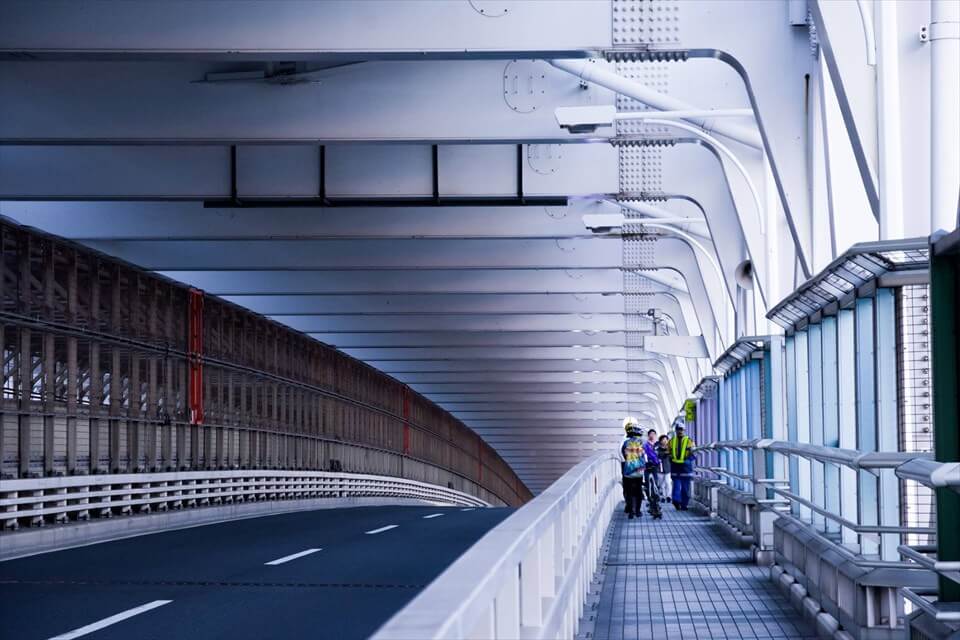 レインボーブリッジの歩道は自転車は走行禁止なので押していきます。
Using a bicycle to cross the Rainbow Bridge is prohibited so I am pushing my bike as I walk.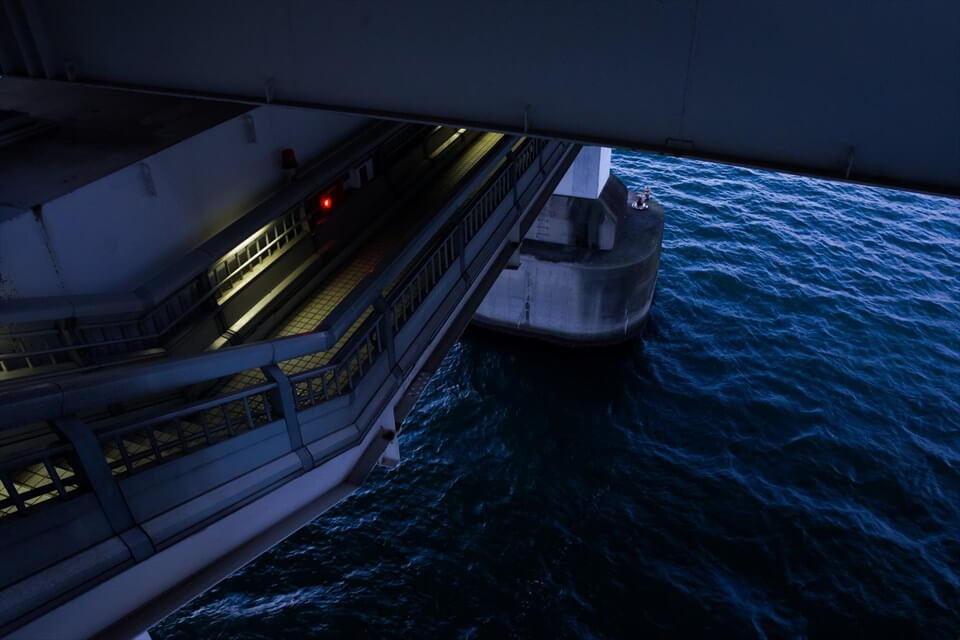 折り返し地点。海がすぐ下に見えます。
This is the turning point. You can see the sea below.
ノースルート(東京の街並み)North Route (Cityscape of Tokyo)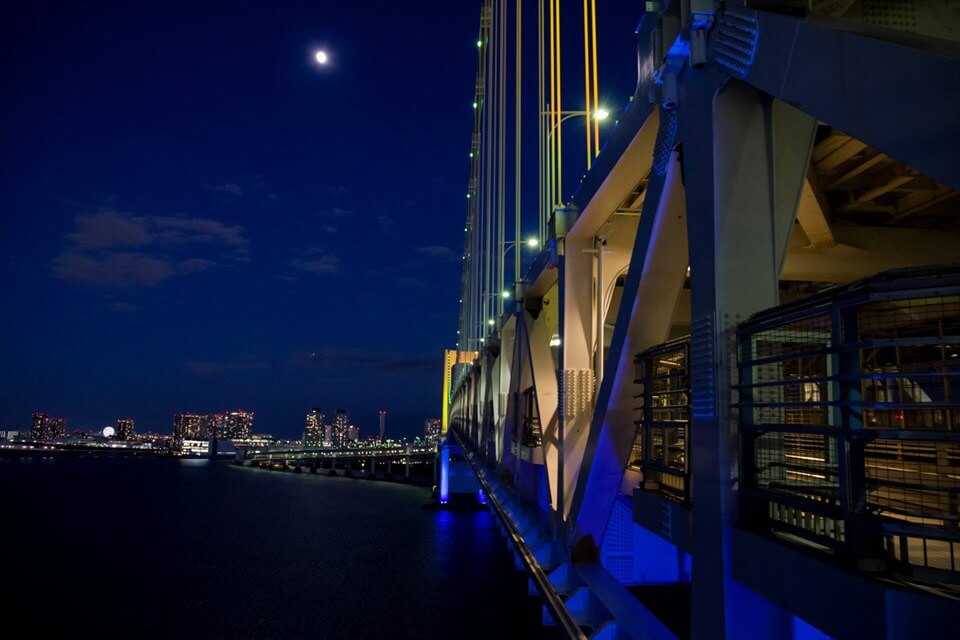 お台場の街の光を背に進みます。
Behind the lights of the city of Odaiba.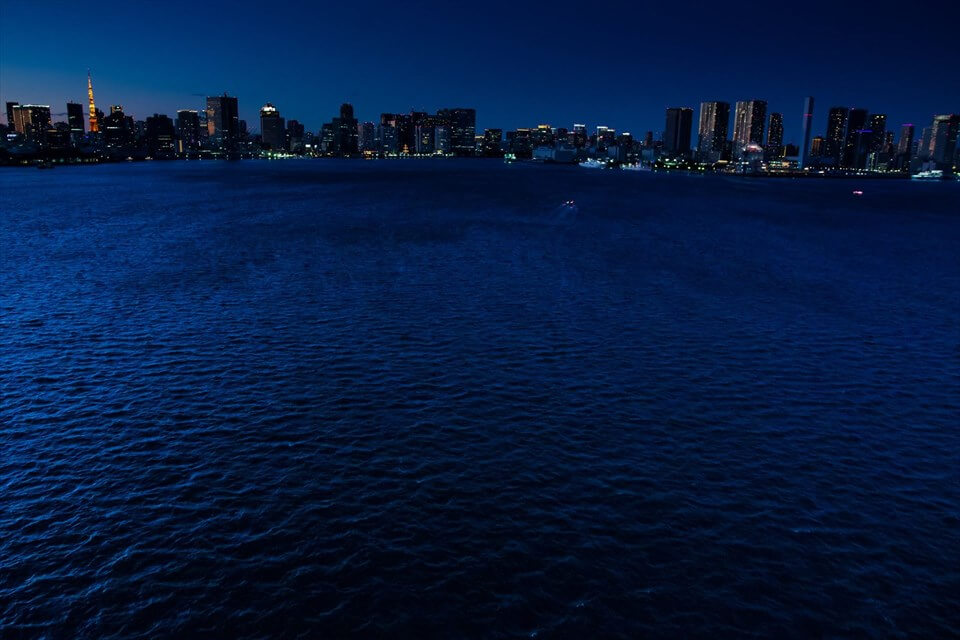 レインボーブリッジからの東京の街の眺め。東京タワーも見えます。海から眺める東京の街は新鮮!
A view of the city of Tokyo from the Rainbow Bridge. I can also see Tokyo Tower. It's such a wonderful scenery to see the city from here!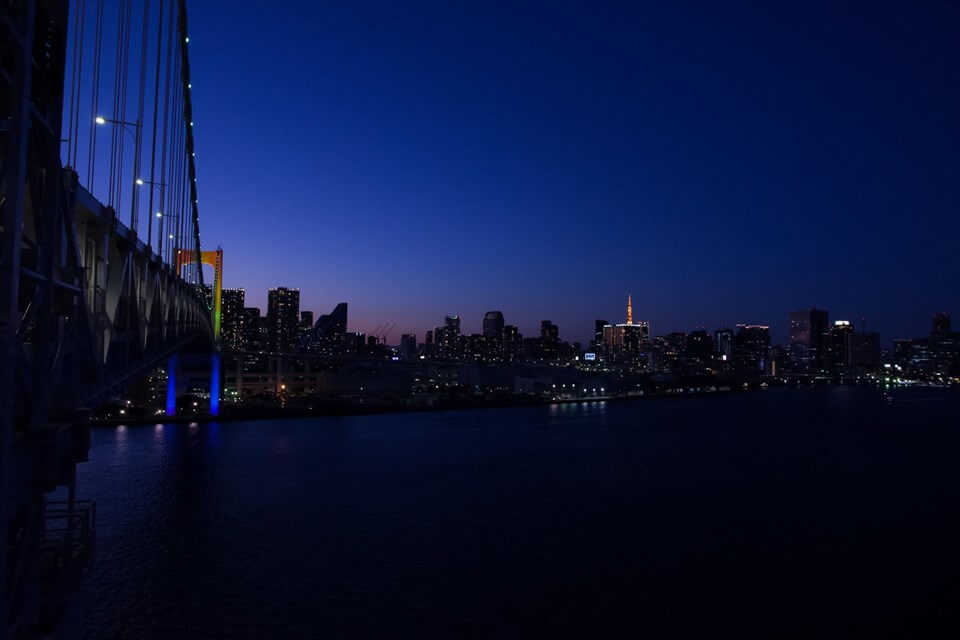 夏は排気ガスの匂いや暑くてお勧めではありませんが、春や秋など少し涼しい季節のお散歩には良いですよ。
To come here in the summer is not recommended because of the smell of exhaust gas, but it is good for walking in a slightly cool season such as spring or autumn.
風が強いので帽子など風に飛ばされないように気を付けてください!
Please be careful not to be blown away by the wind as the wind is quite strong!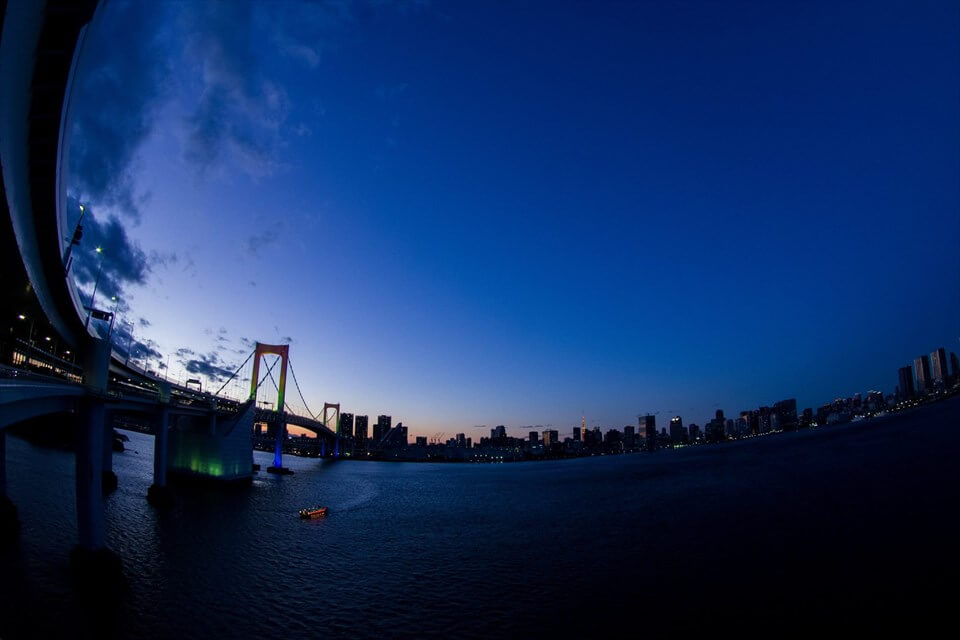 Currently accepting Student Visa applications for January 2024.

即日起接受2024年1月留學簽證申請。
---