What is your Japanese animal sign? あなたの干支を知っていますか?
Category:Diary, Information
---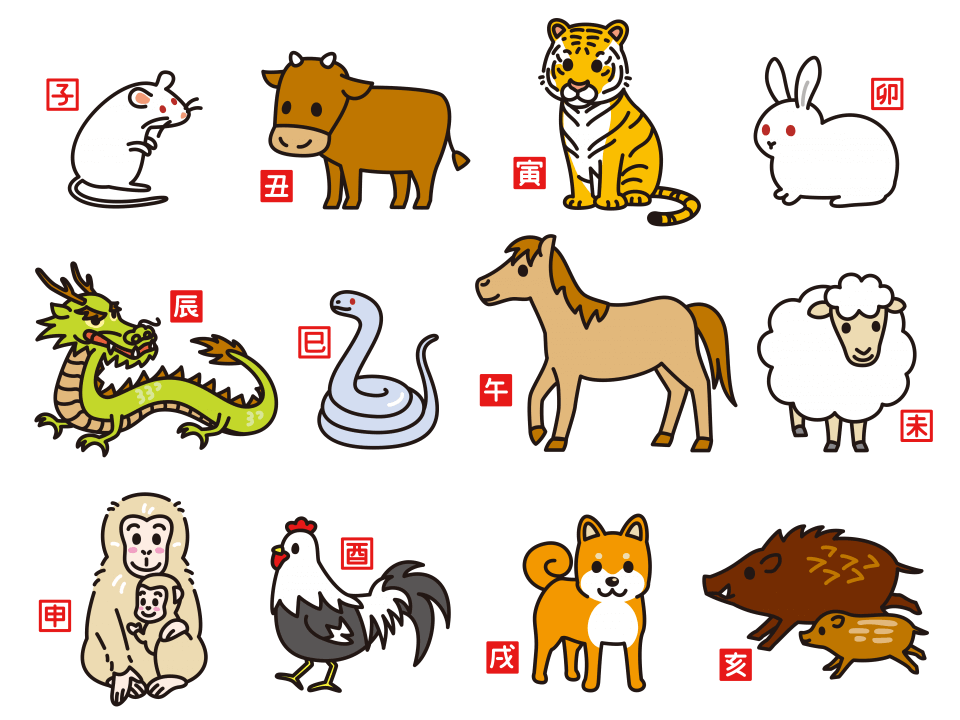 The Japanese zodiac is based on a 12-year cycle.
干支は12年周期となっています。
Each year has a symbolic animal.
それぞれの年に、動物の名前がついています。
In order, the 12 animals are: Rat, Ox, Tiger, Rabbit, Dragon, Snake, Horse, Sheep, Monkey, Rooster/Chicken, Dog, Boar.
順番に、子、丑、寅、卯、辰、巳、午、未、申、酉、戌、亥となります。
2020 is the year of the Rat.
2020年は子年です。
Check your animal signs.
あなたの干支もチェックしてみてください!
| Birth Year | Animal sign | Animal sign chinese character | Hiragana |
| --- | --- | --- | --- |
| 1960 | rat | 子 | ね(ねずみ) |
| 1961 | bull | 丑 | うし |
| 1962 | tiger | 寅 | とら |
| 1963 | rabbit | 卯 | う(うさぎ) |
| 1964 | dragon | 辰 | たつ |
| 1965 | snake | 巳 | み(へび) |
| 1966 | horse | 午 | うま |
| 1967 | sheep | 未 | ひつじ |
| 1968 | monkey | 申 | さる |
| 1969 | rooster | 酉 | とり |
| 1970 | dog | 戌 | いぬ |
| 1971 | boar | 亥 | い(いのしし) |
| 1972 | rat | 子 | ね(ねずみ) |
| 1973 | bull | 丑 | うし |
| 1974 | tiger | 寅 | とら |
| 1975 | rabbit | 卯 | う(うさぎ) |
| 1976 | dragon | 辰 | たつ |
| 1977 | snake | 巳 | み(へび) |
| 1978 | horse | 午 | うま |
| 1979 | sheep | 未 | ひつじ |
| 1980 | monkey | 申 | さる |
| 1981 | rooster | 酉 | とり |
| 1982 | dog | 戌 | いぬ |
| 1983 | boar | 亥 | い(いのしし) |
| 1984 | rat | 子 | ね(ねずみ) |
| 1985 | bull | 丑 | うし |
| 1986 | tiger | 寅 | とら |
| 1987 | rabbit | 卯 | う(うさぎ) |
| 1988 | dragon | 辰 | たつ |
| 1989 | snake | 巳 | み(へび) |
| 1990 | horse | 午 | うま |
| 1991 | sheep | 未 | ひつじ |
| 1992 | monkey | 申 | さる |
| 1993 | rooster | 酉 | とり |
| 1994 | dog | 戌 | いぬ |
| 1995 | boar | 亥 | い(いのしし) |
| 1996 | rat | 子 | ね(ねずみ) |
| 1997 | bull | 丑 | うし |
| 1998 | tiger | 寅 | とら |
| 1999 | rabbit | 卯 | う(うさぎ) |
| 2000 | dragon | 辰 | たつ |
| 2001 | snake | 巳 | み(へび) |
| 2002 | horse | 午 | うま |
| 2003 | sheep | 未 | ひつじ |
| 2004 | monkey | 申 | さる |
| 2005 | rooster | 酉 | とり |
| 2006 | dog | 戌 | いぬ |
| 2007 | boar | 亥 | い(いのしし) |
| 2008 | rat | 子 | 子 |
| 2009 | bull | 丑 | 丑 |
| 2010 | tiger | 寅 | 寅 |
| 2011 | rabbit | 卯 | う(うさぎ) |
| 2012 | dragon | 辰 | たつ |
| 2013 | snake | 巳 | み(へび) |
| 2014 | horse | 午 | うま |
| 2015 | sheep | 未 | ひつじ |
| 2016 | monkey | 申 | さる |
| 2017 | rooster | 酉 | とり |
| 2018 | dog | 戌 | いぬ |
| 2019 | boar | 亥 | い(いのしし) |
| 2020 | rat | 子 | ね(ねずみ) |
| 2021 | bull | 丑 | うし |
| 2022 | tiger | 寅 | とら |
| 2023 | rabbit | 卯 | う(うさぎ) |
干支の由来
むかしむかし、ある年の暮れに神様が動物たちに「元日の朝、1番から12番目に新年のあいさつに来た者を1年交代で順番に動物の大将にする」と言いました。
それを聞いた動物たちは元日が来るの待っていました。
ところが猫は神様のところに行く日を忘れてしまい、ねずみに聞くと「1月2日の朝」だと嘘の日にちを教えられたので参加することができませんでした。
体が大きくて歩くのが遅い牛は、夜のうちから支度をしてまだ暗いうちから出発しました。
その様子を見ていたねずみは、こっそり牛の背中に飛び乗りました。
そんなこととは知らない牛は、元日の朝、1番に神様の家に到着しました。
大喜びしている牛を迎え入れようと門が開くと、牛の背中から飛び降りたねずみが走って門をくぐり1番になってしまいました。
ねずみに先を越されてしまった牛が2番、そこから虎、兎、龍、蛇、馬、羊、猿、鶏、犬、猪で到着しました。
ねずみに嘘をつかれた猫は、今でもねずみを恨んで追い掛け回しています。
The Origin of the Japanese Zodiac
Once upon a time, at the end of a year, the god told the animals, "On the morning of New Year's Day, the twelfth person from the first to the twelfth who comes to greet the New Year will become the chief of the animals in turn for one year.
When the animals heard this, they waited for New Year's Day to come.
However, the cat forgot the day he was to go to the gods, and when he asked the mouse, the mouse told him it was the morning of January 2nd, a false date, so he could not participate.
The cow, who was big and slow to walk, got ready in the night and left while it was still dark.
A mouse saw what was happening and secretly jumped on the cow's back.
Unaware of this, the cow was the first to arrive at God's house on the morning of New Year's Day.
When the gate was opened to welcome the overjoyed cow, the mouse jumped off the cow's back and ran through the gate to be the first to arrive.
The cow, who had been beaten to the punch by the mouse, came in second, followed by the tiger, rabbit, dragon, snake, horse, sheep, monkey, chicken, dog, and boar.
The cat, who was lied to by the mouse, still hates the mouse and chases it around.
Translated with www.DeepL.com/Translator (free version)
Currently accepting Student Visa applications for January 2024.

即日起接受2024年1月留學簽證申請。
---
2020年1月8日 水曜日 3:41 PM Category: Diary, Information.